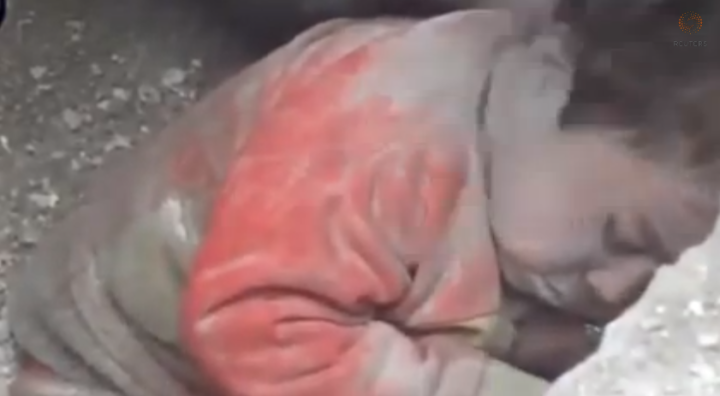 Amateur video posted on YouTube shows the remarkable footage of a toddler escaping death after being pulled from rubble by a recovery team who dug out the child in Aleppo after a bombing raid.
After hearing cries, the men frantically removed chunks of plaster. The two-year-old girl wiped the dust from her eyes as she was pulled to safety. Speaking to ITV News, her relieved father said: "They dug unti they found her – thank God."
Shouts are heard on the video of of "Allahu akbar" – "God is great" - are chanted through the large crowd when the child is finally freed.
The footage, which has not been independently verified, was dated on Wednesday – the day after government air strikes on the rebel-held district.
According to the Syrian Observatory for Human Rights, ten people including two children were killed in the bombardment aimed at a bus garage.
Aleppo has been at the centre of some of the fiercest fighting between government and rebel forces in the three-year civil war. The airstrikes on Aleppo come after the Assad regime took strategic ground around the city last month.
In Syria, Islamic State fighters continue to make rapid gains against pro-Assad forces and tribal fighters following their capture of northern Iraq's largest city Mosul on Sunday.
The Islamic militants, formerly known as Isis – is believed to control around a third of Syria - mostly rural areas in the north and east.
Estimates of the total death toll so far range between 98,000 and 130,000 in Syria's civil war, which began in March 2011.