China: Animal welfare campaign against Yulin Dog Meat Festival‪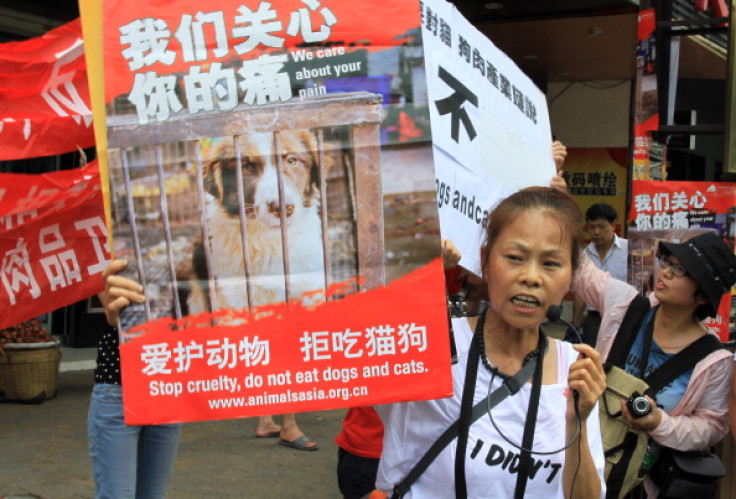 ‪As the Yulin Dog Meat Festival‪ nears, animal rights campaigners have once again started online petitions against the slaughter of several thousands of cats and dogs.
Despite reports that the festival has been banned by the government, cats and dogs' meat remain on the menu of several restaurants in Yulin ahead of this year's solstice on 21 June.
"I witnessed the Dog Meat Festival in 2014. Some dogs were still wagging their tails when they were being killed in the slaughterhouse," Andrea Gung from the US-based charity the Duo Duo Project told The Independent.
"The trust dogs put in humans is much greater than other animals. With the worldwide homeless dogs problem we already betrayed them once – now eating them is what I call the ultimate betrayal."
According to undercover investigations by the Humane Society International, cats and dogs are held and killed under highly unpleasant circumstances during the festival.
Several animals were reportedly also seen wearing collars, possibly indicating that they were stoken.
The Humane Society International has now launched an online petition titled 'Please end the Yulin dog meat festival'.
"I'm writing to respectfully urge you to end the mass slaughter and consumption of dogs for the summer solstice event commonly known as the 'Dog Meat Festival' to be held on June 22 in Yulin," read the petition.
"I was shocked to learn that thousands of dogs, many of them stolen pets, are due to be slaughtered for dog meat hotpot that will be served during the event. Not only will the dogs suffer enormously during the arduous and long journey to Yulin, they will then be subjected to being beaten and ultimately slaughtered whilst fully conscious.
"In addition to animal welfare concerns the mass consumption of dogs in a short period of time also threatens the health and safety of the public by potentially spreading rabies, a horrifying disease that is already an ongoing problem in the Guangxi Zhuang Autonomous Region."
Here are several other protesters calling for the festival to be banned.
© Copyright IBTimes 2023. All rights reserved.