Australia has defended the US after it sailed a warship close to a reef claimed by China in the South China Sea, describing it as a "routine" freedom of navigation exercise. The Chinese military deployed two fighter jets and three warships after the guided missile destroyer USS William P Lawrence sailed within 12 nautical miles (22km) of Fiery Cross Reef on 10 May, with Beijing calling the patrol mission a "severe provocation".
Australia Foreign Minister Julie Bishop said its ally America was entitled to sail navigation exercises in the region in accordance with the international law, and urged all states to "refrain from any aggressive or coercive conduct against vessels exercising their right".
"All states have a right under international law to freedom of navigation and freedom of overflight in the South China Sea and elsewhere, and that's Australia's position," she was quoted as saying by Australian broadcaster ABC.
"We don't take sides in the various claims over territorial or boundary issues but we urge all parties to exercise restraint and to ensure that they abide by international norms."
UN arbitration
The latest row comes amidst the backdrop of an UN arbitration case – filed by the Philippines – on the legality of China's territorial claims in the South China Sea. "Now there is an arbitration underway," Bishop added.
"We're expecting a decision from that arbitration in relation to one aspect of the South China Sea, and in the meantime, all parties should exercise restraint."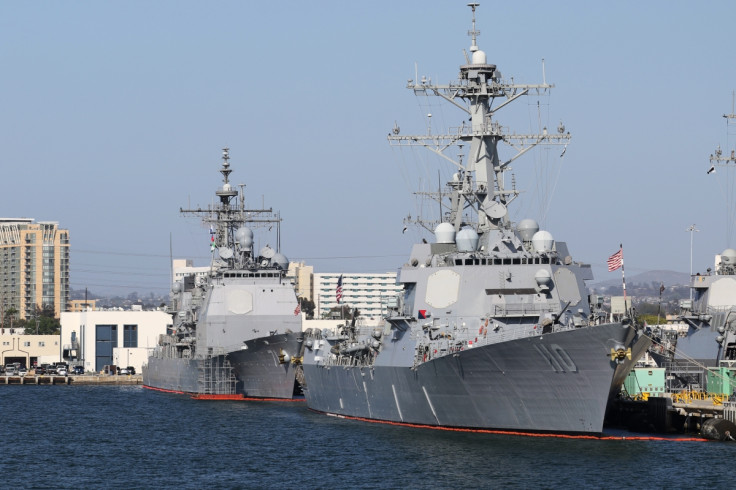 The US has conducted several navigation exercises in the South China Sea – through which about $5tn (£3.4tn) trade passes annually – to challenge China's territorial claims. There is increasing international concern that the continued animosity between Washington and Beijing in the region could spark a major naval conflagration.
Australian Prime Minister Malcolm Turnbull said that he had reiterated his support to America's navigation operations in the area in a phone call with President Barack Obama on 12 May.
"We... talked about security issues in our region and confirmed our strong commitment to freedom of navigation throughout the region and the importance of any territorial disputes being resolved peacefully and in accordance with international law," he was quoted as saying by Reuters.