Ash Carter has warned China that its land reclamation in the South China Sea is out of step with international rules, and turning underwater land into airfields won't expand its sovereignty.
Speaking at an international security conference in Singapore on Saturday 30 May, the US Defence Secretary said Washington opposed "any further militarisation" of the disputed lands.
American officials have revealed that China has put two large artillery vehicles on one of the artificial islands it is creating in the South China Sea, a move that is fuelling fears that Beijing will try to use the land reclamation projects for military purposes.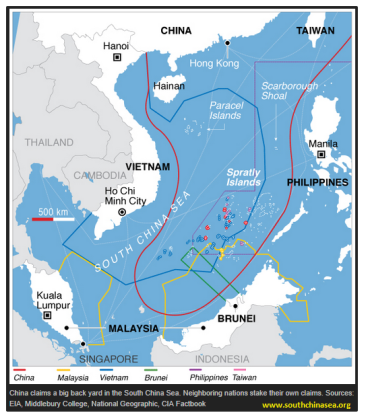 Carter did not refer directly to the weapons in his speech, but he said: "Turning an underwater rock into an airfield simply does not afford the rights of sovereignty or permit restrictions on international air or maritime transit.
"China has reclaimed over 2,000 acres, more than all other claimants combined ... and China did so in only the last 18 months," Carter told the Shangri-La Dialogue security forum. "It is unclear how much farther China will go."
China has denied the claims, with Foreign Ministry spokeswoman Hua Chunying telling the Associated Press that she was "not aware of the situation you mention".
She urged Washington to be "rational and calm and stop making any provocative remarks, because such remarks not only do not help ease the controversies in the South China Sea, but they also will aggravate the regional peace and stability".
Carter responded by telling the conference that the US was concerned about "the prospect of further militarisation, as well as the potential for these activities to increase the risk of miscalculation or conflict".
He added that the "has every right to be involved and be concerned."