China is reportedly developing new sea-based anti-missile systems, according to military experts, which could soon be deployed on Chinese warships in the Indian Ocean and Asia-Pacific.
Earlier in the week, the country announced successful testing of its ground-based missile defence system designed to intercept and shoot down intercontinental ballistic missiles (ICBMs) in space.
Beijing's move to bolster its missile defence system comes amid escalating tensions over North Korea's nuclear programme. As the threat of a potential nuclear war continues to grip the globe, China — ranked fourth among the five biggest nuclear powers in the world — appears to have also moved further in developing its missile defence system.
Beijing's plan to deploy sea-based anti-missile systems in the Indian Ocean follows India's successful testing of the 5,000km range Agni-V ICBM in January, which could potentially drop a nuclear warhead on the Chinese mainland.
Citing Macau-based military expert Antony Wong Dong, the South China Morning Post reported that China's new next generation sea-based HQ-26 anti-missile system has a range of 3,500km. It is likely to be installed in the country's largest destroyer, the report added.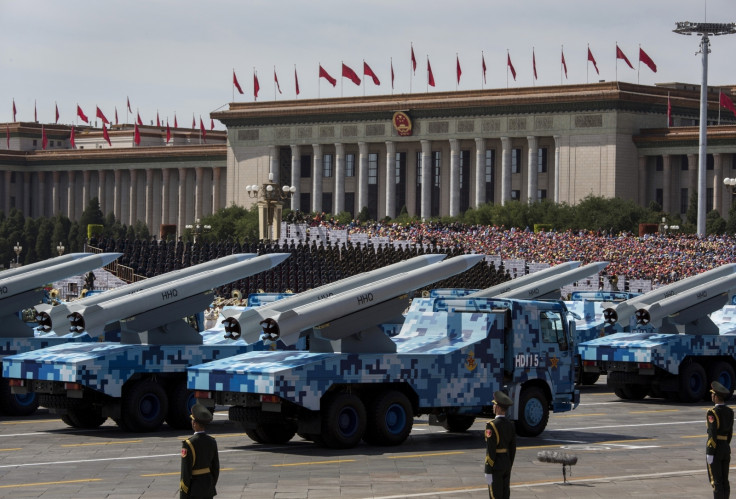 "China's sea-based anti-missile system aims to defend both its territory and overseas interests, because sea-based defence systems will be set up wherever its warships can go," Song Zhongping, a military commentator on Phoenix Television who also formerly served in the People's Liberation Army, told the paper. "The first area it will target is the Asia-Pacific region and the Indian Ocean to protect its overseas interests."
Military analyst Zhou Chenming added: "China's mid-course anti-missile system is powerful enough to shoot down missiles from North Korea and India, though it's not clear whether it could intercept an ICBM from the US if they start firing at each other."
Over the past few years, China has steadily been boosting its military capabilities. In December 2017, Beijing successfully tested its new DF-17 hypersonic missile, which is expected to be operational by 2020. In early February, a Chinese warship was spotted having a special type of weapon which many speculated was a massive electromagnetic railgun.
Beijing is also working to equip all its nuclear submarines with artificial intelligence (AI) that would give the communist nation an upper hand in combat situations.