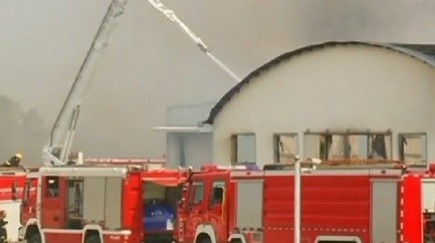 At least 119 people have died after a fire at a poultry slaughterhouse broke out in a Chinese city and trapped the workers inside.
More than 50 people were injured in the fire at the processing plant in Dehui city in the province of Jilin, northeast China.
Firefighting officials said the blaze was started by an ammonia leak, which is kept under pressure for the cooling system, in the meat processing plant, owned by Jilin Baoyuanfeng Poultry.
An electrical fault was also blamed for the fire and local media said that nearly all the slaughterhouse doors had been locked, trapping dozens of workers inside.
Firefighters extinguished most of the blaze, allowing search teams to recover the bodies of victims. Officials said the death count was likely to rise.
About 350 people were working in the plant when it caught fire.
News agency Xinhua said that due to the plant's "complicated interior structure", workers struggled to escape. One employee said that the lights went out soon after the fire started, which caused panic among the workers as they looked for an exit.
Wang Fengya said: "When I finally ran out and looked back at the plant, I saw high flames."
A second unnamed survivor said: "I escaped by climbing out of a window. There was a huge cloud of black smoke coming down the corridor. It was burning hot. It engulfed me. As soon as I was outside I collapsed unconscious."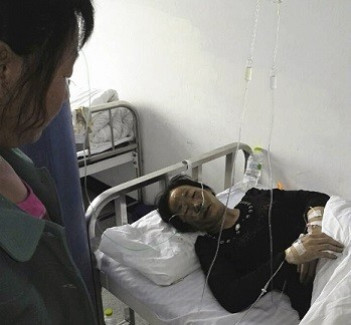 The fire was one of the deadliest in the country in recent years. In 2000, 309 people died after a nightclub caught fire in in Luoyang, Henan province.
Jason Yan, technical director of the US Grains Council in Beijing, said that safety considerations were still not regarded as important as plant layouts which are designed to maximise production and energy efficiency.
He said: "I'm sure they consider some aspects of safety design. However, safety is not the first priority in their design plan. "
Willy Wo-lap Lam, an adjunct history professor at the Chinese University of Hong Kong, told Bloomberg: "Any fatal casualties over 100 that's not a natural disaster will make the government very nervous, in fear of possible social unrest.
"This should serve as a big lesson for the government to put in even more stringent safety checks and to crack down on corruption."
Jilin Baoyuanfeng produces 67,000 tons of processed chicken a year and employs 1,200 people.