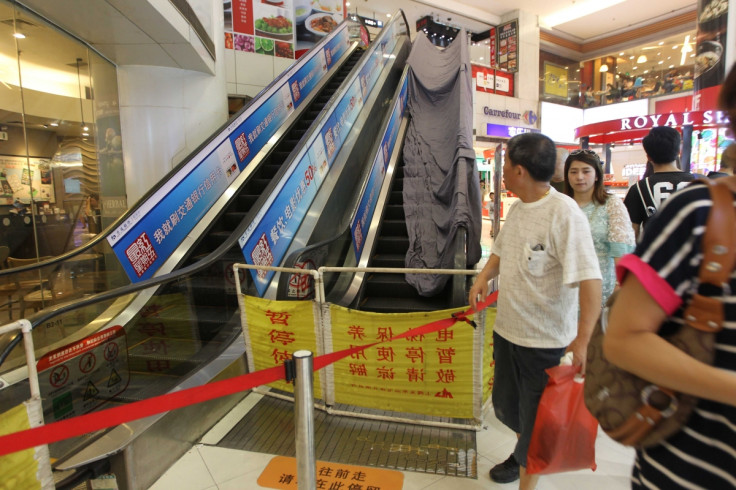 A four-year-old boy has been crushed and killed in the latest shock escalator accident in China after he was pinned between the floor and a moving handrail. The child, who has not been named, was killed in south-west China's Chongqing municipality at the Hongqihegou metro station. The escalator continued running thoughout the grisly accident and was not stopped until staff were able to turn it off.
The incident was caused by a mechanical malfunction, the Mirror reported. Authorities are continuing to investigate the death and have called for parental supervision on escalators. In August, a cleaner in China had his foot amputated after it was mangled when an escalator broke at a Shanghai shopping centre.
Surveillance footage from the shopping mall shows two people jumping over the broken top platform of the escalator where the cleaner, surnamed Zhang, was working. The cleaner then goes over and kicks the top platform back into place before continuing to mop the area. It took local firefighters about 20 minutes to free Zhang, eventually carrying him out on a stretcher.
In July, Chinese mother Xiang Liujuan fell to her death after she saved the life of her two-year-old son on an escalator at department store in the central city of Jingzhou. Surveillance camera footage shows her pushing the toddler into the arms of a shopping assistant standing near the escalator's end, while she dangles in the void.
Moments later, store attendants unsuccessfully attempt to grab her arm to drag her to safety and she is quickly swallowed by the still-moving machinery. Her body was retrieved hours later, trapped inside the escalator's inner workings.