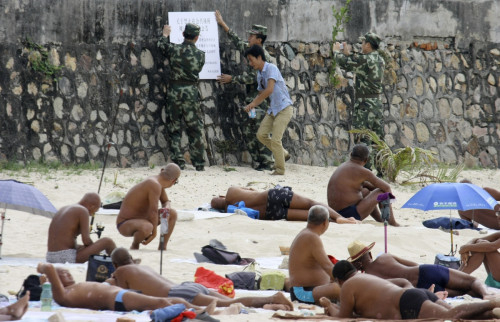 Communist Party officials in the southern Chinese resort island of Hainan have installed surveillance cameras on local beaches as part of a crackdown on "uncivilised" nude sunbathers.
Luo Baoming the communist party chief of Hainan province described nude sunbathing as "un-Chinese, anti-tradition and uncivilised" and ordered police to patrol beaches around the coastal city of Sanya.
"No normal person would swim or sunbathe naked in public," Xinhua news agency quoted Luo as saying. "This kind of behaviour is not consistent with China's cultural traditions."
Loudspeakers and signs have also been used to help dissuade tourists from taking off their bathing suits.
Offenders are to be forcibly removed from the beach and face up to 10 days behind bars, Xinhua reported.
The crackdown came as many local residents complained with authorities about the high number of naked sunbathers that flocked the island's beaches during the Lunar New Year holiday.
More than 700,000 tourists arrived in the town during the week of vacation also known as Spring Festival holiday.
"I have a daughter. How can I explain to her if we pass naked men sunbathing?" Sanya resident Li Qing told Xinhua.
Sanya had become a nudists' hotspot in recent years despite the practice being illegal. The city reportedly attracted not only naturists but also a number of Chinese affected by skin diseases that they believe can be healed by the sun's rays.