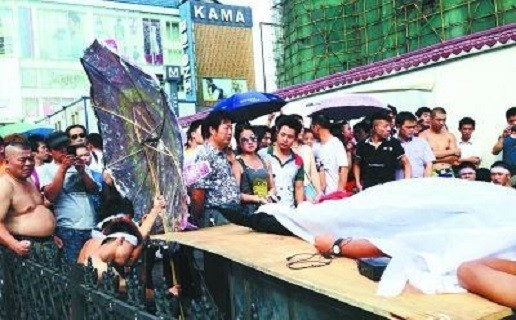 A man in China trying to fake his own death has failed in his quest because of the heatwave hitting parts of the country.
The soft-drinks vendor, known only as Han, tried to fake his own death for money, but was unable to lie still on a gurney because of the extreme temperatures.
Over 10 men were holding the 'corpse' on a gurney in Wuhan, in the Hubei Province, saying the man was dead.
They told onlookers that the 'chengguan,' China's widely loathed municipal police, had beaten him to death. They were demanding tens of thousands of yuan in compensation, China's Xinhua news agency reports.
The chengguan have been criticised for their violent approach towards low-level and non-criminal regulation violations.
Recently, a watermelon vendor who argued with a chengguan died from a brain haemorrhage after an altercation. Reports also suggest chengguan officers beat vendors and smash up their stalls.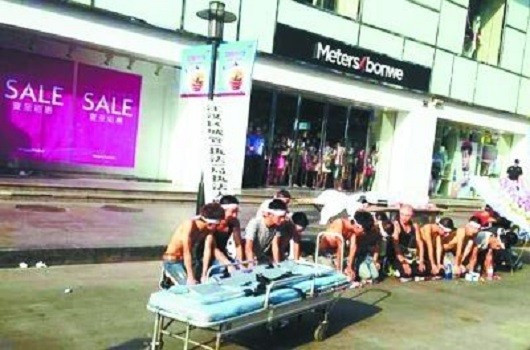 Around 300 people gathered around Han's body and over 80 police officers were dispatched to keep order.
However, two hours after pretending to be dead, Han jumped up from the gurney, grabbed a bottle of water and shouted "It's too hot. I can't bear it anymore". Han and two other men were then arrested for disturbing public order.
China has experienced a heatwave in the past few weeks, with Shanghai experiencing its hottest July on record - temperatures have soared to 35C and above for the last two weeks.
Temperatures in Wuhan have risen above 30C, with mercury levels reaching 36C on the day of Han's 'death'. However, local residents taking independent readings said temperatures in the inner city had reached around 45C.
After his arrest, Han told police that chengguan officers had clashed with vendors after they told them their stands were blocking traffic and asked them to leave. They also took the vendors' drinks away, Han said.
The local hospital confirmed some vendors and officers sustained minor injuries in the clash, but that no one had died as a result.