A 10-year-old boy was stabbed 12 times by a crazed hospital patient who blamed the child's father for not returning $45 (£32) in medical costs when he left care, say reports. The 54-year-old has since been arrested on attempted murder charges after the shocking incident in Yiyang, in central China's Hunan Province on Monday (13 June).
Chinese police say that the man, named He, was caught at the scene, and was believed to be in a dispute with a hospital where the boy's father worked as a cashier. The shocking attack took place as the child made his way to school and was captured on the vehicle's CCTV cameras.
The footage shows the man stalk the child, named Weiwei, as he gets on a bus and then sits in front of him where he waits for a few moments before launching a ferocious attack on the boy with a long knife.
The cameras captured his screams for help. and terrified passengers ran from the bus as the attack continued before the bus driver walked up to the man, pushed him out of the way and grabbed the boy.
Weiwei had three hours of emergency operations and was then admitted to the intensive care unit suffering with severe blood loss. He had stabbed at the boy's face, lungs and fingers with doctors saying that there may be some issues with gripping as a result of the attack.
According to the Huanqiu, affiliated to the People's Daily, China, but not confirmed by IBTimes UK, the boy's condition is said to be stable. According to reports the man was suffering from emphysema and coronary disease.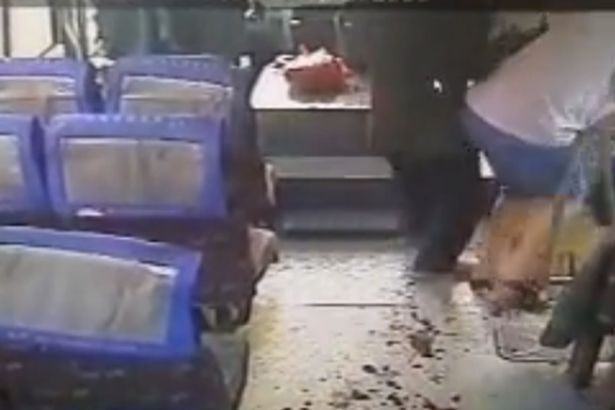 He was taken into care in Yuejiaqiao Hospital but argued with the cashier over the reimbursement of $45 (£32) in medical costs with the cashier, named Kong. After the argument the boy's father told him to not come back and cause trouble again, but He attacked, injuring the cashier.
The attacker was said to have demanded compensation from Kong and then tried to kill his son as a result of what he considered poor care by the hospital. On Tuesday 14 June, Hunan Police released a statement on their website saying that the case will be characterised as 'intentional homicide' and that they have a suspect in criminal detention.