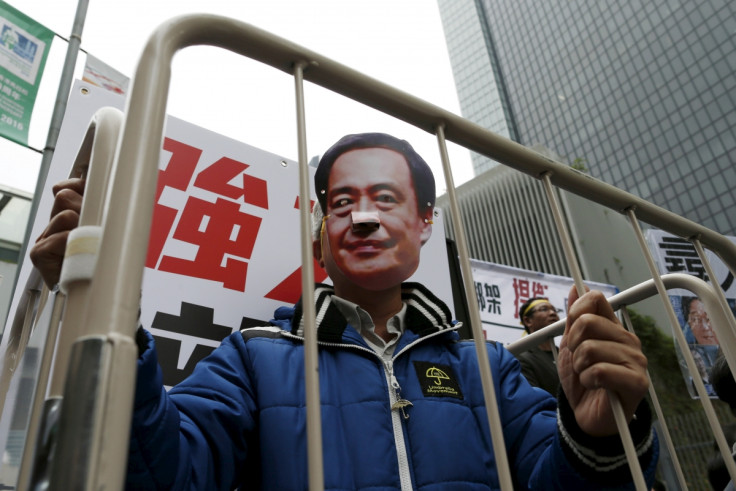 A missing Hong Kong bookseller has resurfaced in an interview with Chinese media in which he pledged to give up UK citizenship and denied he was abducted by Beijing. Lee Bo was one of five booksellers specialising in politically sensitive volumes banned on the mainland who disappeared from the former British colony in late 2015, amid fears they were targeted by Chinese intelligence services because of their work.
Lee reappeared in a televised interview aired by pro-Beijing Phoenix TV on 29 February, in which he confessed to illegally sneaking through the border to help authorities with an investigation. Although Lee was seen smiling during broadcast, supporters believe he made the statement under duress.
He had gone missing on 30 December a couple of months after four of his colleagues at Mighty Current Media and its Causeway Bay Bookstore suffered a similar fate. The four were also paraded before TV cameras the day before on 28 February and admitted to illegally trading in books.
Lee claimed he secretly crossed into China to help detectives on the case, choosing an illegal route fearing that the families of his colleagues could retaliate against his own if they were to find out of his cooperation. "After the Mighty Current affair emerged, I wanted to secretly go back to the mainland as soon as possible to resolve the company's affairs, then secretly return to Hong Kong," he said.
Lee added he could not return to Hong Kong until his services were no longer needed and had decided to waive his British right of abode to simplify proceedings. "I haven't been to Britain for more than 20 years and I haven't enjoyed a citizen's rights and privileges," he argued.
The British government said they were denied consular access to Lee and have raised its concern with Chinese authorities. "Despite formal requests, we have not been granted consular access to Mr Lee," a UK government spokesperson said.
In a report published in February, Foreign Secretary Philip Hammond said: "Our current information indicates that Mr Lee was involuntarily removed to the mainland without any due process. We have called, in our contacts with the Chinese government at the highest level, for Mr Lee's immediate return to Hong Kong."