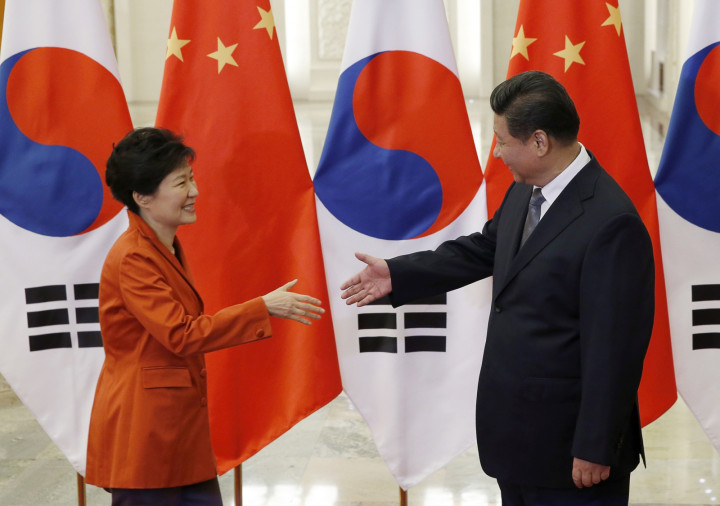 China and South Korea have made "significant progress" towards signing a free trade agreement, in a development which casts a shadow over US economic dominance of the Asia-Pacific region.
The deal, which is expected to be concluded in 2015, will remove bilateral tariffs on 90% of goods over the next 10 years. It will give the chaebol giants of South Korea, such as Samsung, Hyundai and LG, access to the growing Chinese middle class and will open much of the Korean agricultural consumption market to Chinese producers.
The 14th round of negotiations took place at the annual meeting of the 21-member Asia Pacific Economic Cooperation (APEC) bloc. Korean officials say a deal has been "virtually" agreed, with China commenting on "significant progress".
The 22-industry deal also reportedly marks the first time China has included finance, telecoms and 3-commerce in a free trade agreement, AP reports.
It presents another challenge to the US' economic dominance of the region, at a time when American negotiators are attempting to get their own regional FTA over the line. Discussions over the 12-nation Trans-Pacific Partnership (TPP) are ongoing, with the US hopeful of sealing a deal before the presidential primaries which begin in early-2016.
Michael Froman, the US Trade Representative and lead negotiator in free trade discussions, has said that China's free trade ambitions, including the nascent Free Trade Area of the Asia-Pacific (FTAAP) which Beijing has been touting, are "long-term" while TPP remains a regional priority.
Speaking to reporters at the APEC summit, Froman said: "It's a reaffirmation of a long-term aspiration for the region that's to be achieved through other ongoing negotiations.
"TPP of course is the major focus of our economic pillar of the re-balance to this region. And we certainly view TPP as our contribution to expanding trade and integrating the region."
Last year, bilateral trade between China and South Korea topped $270bn. China is South Korea's largest trading partner, while South Korea is China's third-largest.
The agreement will help ease fears in Seoul over weak domestic consumption, which has seen economic growth slow to 3%. It's hoped that removing the 10% tariffs currently faced by Korean companies entering the Chinese market will help restore stronger growth over the coming decade.
South Korea will also set up a renminbi (RMB) clearing bank in Seoul, which will allow direct trading between the Chinese currency and the Korean won. Korea will also be able to invest up to $12.8bn in RMB in China's capital markets, putting it on a par with the UK and France.