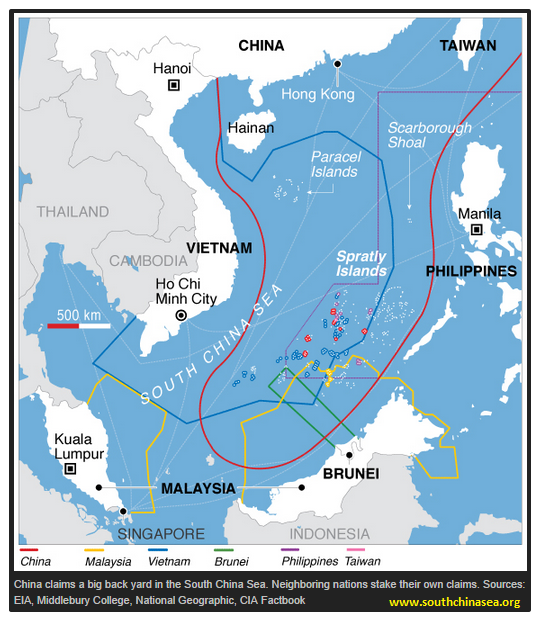 China and the Association of Southeast Asian Nations or ASEAN have agreed to set up a foreign ministers' hotline to tackle emergencies in the disputed South China Sea as tensions in the region continue to mount.
A senior ASEAN official told Reuters that the hotline proposal is expected to be announced at the 10 nation bloc's meeting of foreign ministers.
"The hotline is likely to be announced in a joint statement at the end of the meetings," he said. The hotline is believed to be the first involving China. The Philippines and Vietnam already have a naval hotline which was set up last year to monitor the disputed waters.
ASEAN leaders hope the emergency hotline will help defuse the tension provoked over naval encounters with China and its claims to the disputed territories, the official said.
The proposed hotline was discussed at a meeting of senior diplomats from China and ASEAN in Tianjin last week, according to the Philippine foreign department spokesman Charles Jose, according to AFP.
He said the proposal has been referred back to a joint working group and was still far from a done deal.
"Although this was agreed in principle as an early harvest measure, it needs thorough discussion," he said in a statement to AFP.
Declaration on conduct of parties in South China Sea
On 4 November 2002, the 10 member states and China signed a Declaration on the conduct of parties in the South China Sea but little progress has been made in turning this into a Code of Conduct.
The South China Sea is the centre of a long running territorial dispute between China which is claiming most of the area and several Asian countries. The archipelago comprising about 750 islands and reefs is believed to be rich in oil and gas resources.
Recently China undertook a 10 day drill in the disputed parts of the area and warned neighbouring countries not to enter the region until the war games were over.
It is also about to complete land reclamation works in the area, heightening tension in the region. China seized Scarborough Shoal from the Philippines in 2012 after a three month standoff with the Philippine navy.
This has led to Philippines beefing up its navy forces, including re-opening Subic bay as a navy base from next year, more than 20 years after it kicked out the US and shut down the military base which is now used as an economic zone.
The disputed Spratly islands, where China is building seven man-made islands, is 145 nautical miles from Scarborough Shoal, making it an ideal base for Philippines to monitor China's movements in the region.