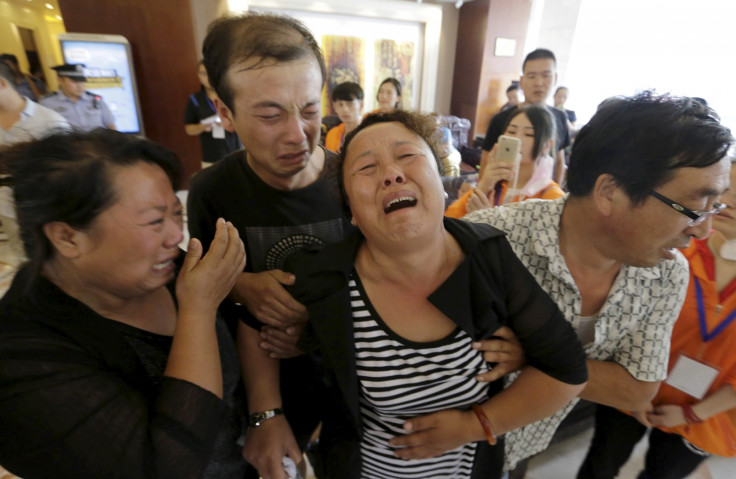 The death toll in the blasts at the chemical warehouse in Tianjin, China, has reached 85, say Beijing authorities.
At least 21 firefighters are among the dead in the two explosions that hit the northern Chinese port city on Wednesday, 12 August.
The official Xinhua news agency, citing authorities, reported that 721 others were admitted to the hospital, including 25 people who are critically injured. Thirty-three people are said to be in a serious condition.
While the cause of the blasts is yet to be ascertained, investigators are also examining the toxic gases in the area as the warehouse, operated by Ruihai International Logistics, specialised in storing and transporting hazardous chemical compounds.
Some fires are still smouldering three days after the original blasts. Dozens of nuclear and anti-chemical warfare experts are at the site inspecting the substances.
Though officials have confirmed the presence of only calcium carbide, potassium nitrate and sodium nitrate at the warehouse, local reports have suggested lethal compounds including 700 tonnes of sodium cyanide were at the Tianjin site.
Authorities have said the warehouse was "clearly violating" safety regulations. They have also launched a nationwide crackdown to check on deadly chemicals and explosions after questions were raised about how residents were allowed to live in such close proximity to an industrial zone.
Meanwhile, a 19-year old firefighter named Zhou Ti was rescued from the blast site after a 32-hour ordeal.
Zhou was pulled alive from the wreckage with burns on his face and a broken leg. The China Central Television (CCTV) reported that he is in a stable condition and suffers from smoke inhalation as well.
"I think it's his strong will which helped him to hold on," said Zhang Dapeng, chief of staff of the Bonded Zone Branch of Tianjin Firefighting Corps. "When talking with him, I could feel his strong inner power, and we also kept pepping him up, urging him to hold on and telling him the ambulance was arriving."