China explosion: Officials confirm highly toxic pollutants leak at explosion site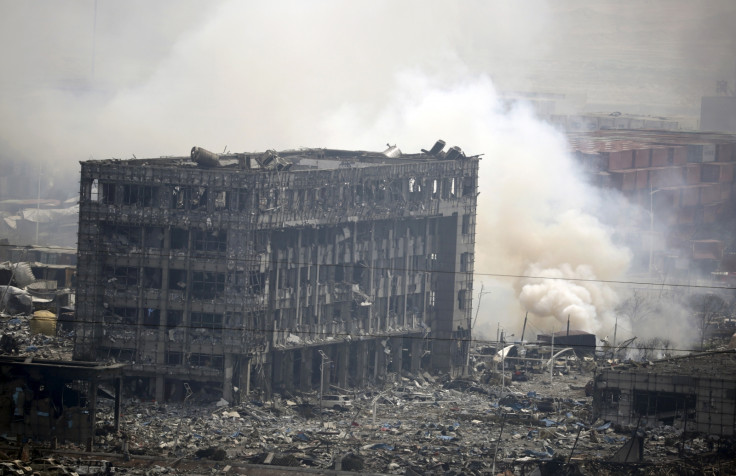 Chinese authorities have confirmed highly toxic pollutants were found at the blast site in Binhai New Area in the northern port city Tianjin. Emergency workers have blocked two drainage outlets.
According to the Ministry of Environmental Protection, the harmful chemicals detected at the site were found to be at least three to eight times higher than normal levels.
The water quality around the area is also being analysed but the ministry officials stressed the harmful particles have not polluted the surrounding area.
The chemicals found at the site have been identified as chemical oxygen demand (COD) and cyanide – both highly toxic, reports China Daily.
Ministry officials have not been able to determine the exact composition of the chemicals.
Gao Huaiyou, deputy director of Tianjin's State Administration of Work Safety said at a press conference that there were major discrepancies in the storage details at the warehouse and in the company's management. Extensive damage to the company's properties following the blast has made it difficult for the authorities to confirm the chemicals stored at the warehouse.
Earlier, Chinese investigators said the air quality in the area surrounding the blast site was within the national standards despite police detecting toxic gases like sulphur dioxide, carbon monoxide and nitrogen oxides.
The Beijing News reported that the leakage of 700 tonnes of deadly toxic substances, which were stored in wooden boxes or iron barrels, has been confirmed. Rescuers were battling to remove 700 tonnes of sodium cyanide following the blasts. A huge crater has been formed at the blast site.
More than 214 military personnel comprising nuclear and biochemical experts are currently in Tianjin to handle the situation.
© Copyright IBTimes 2023. All rights reserved.