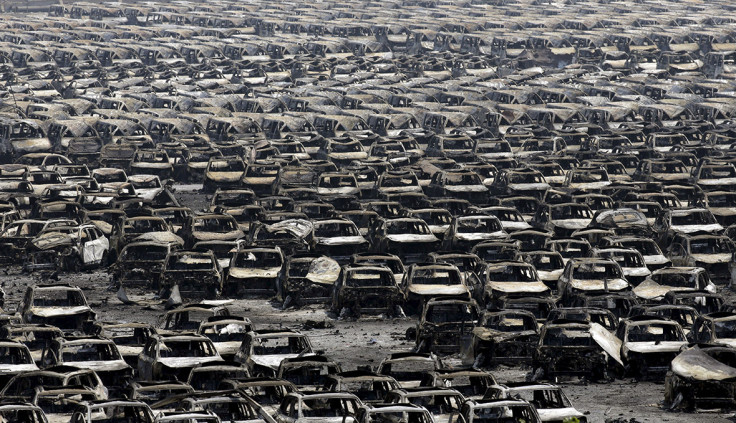 Major disruptions are ahead for the Port of Tianjin, the world's 10th largest port by container throughput as its warehouse filled with cargo for both import and export were destroyed after two major blasts at its warehouse.
Employees of several companies based in the area have also been injured, some of them seriously.
Ships carrying oil and hazardous products have been barred from the port while vessels have been turned away from the central port zone, which is near the blast site, the Tianjin Maritime Safety Administration said, according to AP.
The Wall Street Journal said the port handles about 14 million twenty-foot-equivalents units or TEUs, according to Alphaliner, a research firm. The volume handled is equivlanet to the combined volume of Los Angeles and Long Beach.
The Journal said along with Chinese-owned manufacturing facilities, major Western multinationals such as Airbus Group SE, Deere & Co and Wal-Mart Stores Inc operate factories or distribution centres in the area.
Other than being a major exporter of goods of factories based in the region, the port also imports iron ore, coal, oil and other commodities. It is also one of the top importers of cars into China.
According to John Manners-Bell, the chief executive of UK-based logistics research company Transport Intelligence Ltd, Tianjin is an enormous port and is of huge importance with regards to the distribution of goods around the northern region of China, especially Beijing.
He said even minor delays could ripple across supply chains, adding that it was still too early to say how companies will be affected.
"This is a huge, huge risk ... ports are transport nodes within the supply chain," he said.
Iron ore is another concern. Nicolai Hansteen, an analyst with shipbroking company Lorentzen & Stemoco AS told the Journal that there could be an effect on the price of iron ore imported by steelmakers, noting that steel mills in China have drawn down stocks to roughly 80 million tons or about 20 days' supply.
"It's fallen to very precarious levels. Any disruption in that respect will be felt as a shortage, and it will be felt as high prices," Hansteen said.
Australian mining company BHP Billiton said iron ore shipments and port operations have been disrupted but its iron ore supplies at the port were not damaged. "We are working with our customers to minimise any potential impact," the company said.
Volkswagen spokeswoman Larissa Braun told AP that its vehicles kept at a storage facility near the blasts were damaged.
"We will ship cars from our storage facilities at other ports to ensure our dealers have adequate supply, She noted that the company's component plant located 20km away escaped undamaged, although a few employees sustained injuries.
Toyota, like Volkswagen has lost some cars awaiting shipment and is still trying to establish the extent of damage. It noted that a few of its employees in the area were injured in the blasts.
Shipping and oil giant AP Moller-Maersk said a few warehouses owned and operated by suppliers to its logistics company Damco were damaged in the blast. Two of them were seriously damaged. It however has not been able to fully assess the damage to the cargo and its containers due to restrictions imposed on access.
However the company said operations at its Tianjin port terminals, which are five kilometers from the blast site have resumed.
Deere's spokesman Ken Golden told the Journal that it has suspended its operations there pending an assessment of the damage to its facility, located eight miles from the explosion site.
Further, several Deere employees "who were home at the time of the blasts have sustained serious injuries and some are in critical condition."
GlaxoSmithKline said one of its manufacturing sites had been affected but it was still too early to confirm the extent of the damage. GSK manufactures consumer health products in Tianjin.