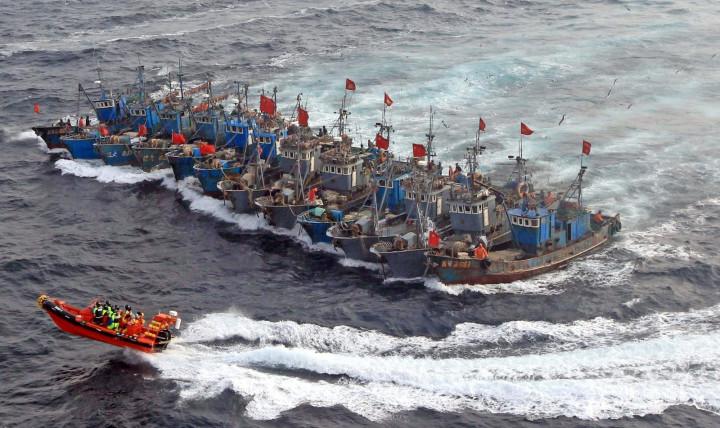 The captain of a Chinese fishing boat was shot dead by a South Korean Coast Guard officer when a brawl erupted during an inspection, sparking an angry reaction from Beijing.
The incident happened as about a dozen coast guard officers boarded the Chinese flagged vessel which they accused of illegally fishing in South Korean waters.
They were soon joined by the fishing crews of another four Chinese boats nearby coming to support their fellow countrymen, South Korean coast guard officials said.
A violent scuffle broke out with knife and glass bottle-wielding Chinese fishermen attacking the Korean officers, according to a coast guard statement. The fishermen tried to choke some of the guardsmen, leaving five injured.
During the fray, a South Korean officer fired three blanks, followed by eight live shots, fatally wounding the 45-year-old Chinese captain. The man was airlifted to a hospital in Mokpo, south of the Koran peninsula, but efforts to revive him failed. Hospital officials said bullets penetrated his lungs, liver and kidney.
China's Foreign Ministry urged Seoul to carry out a throughout investigation, calling for a stern punishment of those responsible. "We are appalled by the violence used by South Korea during law enforcement," spokesman Hong Lei said at a briefing.
The government in Seoul expressed regret and informed the Chinese Embassy of details of the incident, which they said happened inside South Korea's western exclusive economic zone, stretching 200 nautical miles (370km) from shore.
An increasing number of Chinese vessels have been passing through the area that is richer in seafood than the heavily exploited waters off the Chinese coast, leading to confrontations with the coast guard.
More than 180 Chinese fishermen were arrested in 2013 and about 220 boats seized for illegal fishing in the Yellow Sea, according the Coast Guard.
Beijing and Seoul are embroiled in a territorial dispute over a number of submerged rocks, ownership of which opens access to a larger swathe of sea.