A Chinese man has been caught trying to smuggle eight iPhone 6 phones over the border from Hong Kong into China in his underpants.
Since launching on 19 September there has been huge demand for Apple's latest smartphones, especially in countries where the iPhone 6 and iPhone 6 Plus have yet to go on sale. This has already led to scuffles breaking out in Apple's retail stores in the US and Europe.
The Sydney Morning Herald reports that the smuggling suspect named Zhou was detained with eight iPhone 6 units hidden in his underpants, as he tried to cross the border from Hong Kong into China.
Zhou told authorities he had purchased the phones in Hong Kong and planned to resell them in Shenzen.
Hong Kong was among the 10 countries where Apple launched the iPhone 6 last week, while the launch date for the phone in China remains a mystery as it is being held up by regulators in the country.
Zhou was reportedly wearing three layers of underpants in an attempt to conceal the devices, which are selling for almost 300% of their retail price in mainland China - or £1500 - according to local media reports.
Speed boat Iphone 6 smugglers

Zhou is not alone in his attempts to smuggle iPhone 6 and iPhone 6 Plus units from Hong Kong into China, with Shenzhen customs authorities saying they had seized over 1,800 of the new smartphones at the border with Hong Kong since the phones hit the shelves last Friday.
Of those 1,800 however, just 200 were confiscated as being illegally smuggled, with the rest either being taxed or returned to Hong Kong.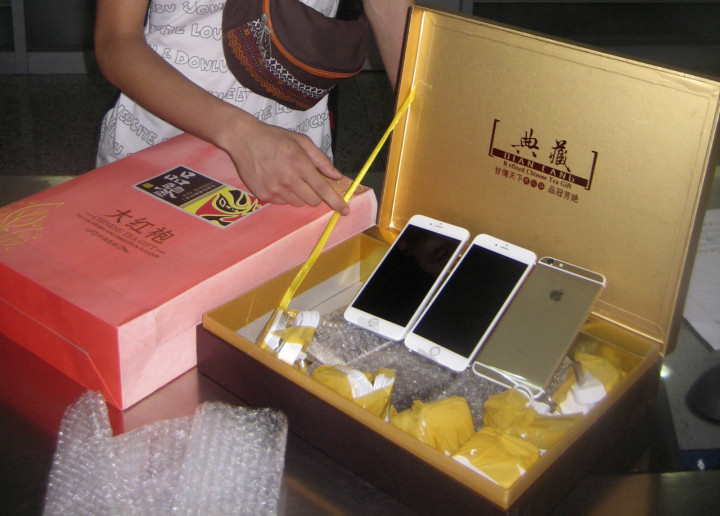 The China News Service has reported that officials at ports and crossings have confiscated hundreds of Apple's smartphones from 36 people in the days since the iPhone 6 went on sale.
On Saturday, an audacious attempt to smuggle 138 iPhone 6 phones into mainland China from Hong Kong using a speed boat was foiled by customs and marine police.
Hours after the devices were released on Friday, one 17-year-old appeared at Futian port carrying a large box of tea leaves, but after avoiding the X-ray scanners, officials pulled him aside and found three iPhone 6 smartphones inside the box.
This appears to be a common method of trying to smuggle iPhones into China, with four other travellers stopped on 21 September with iPhone 6s concealed in boxes of pasta, coffee, cream pies, and toothpaste - with the products piled on top of the phones in an attempt to avoid detection.
China is a well-known grey market for iPhones and one report suggests that up to 5 million iPhone 6 smartphones will be smuggled into China before Apple officially launches the devices in the country, which is likely to happen later this year.