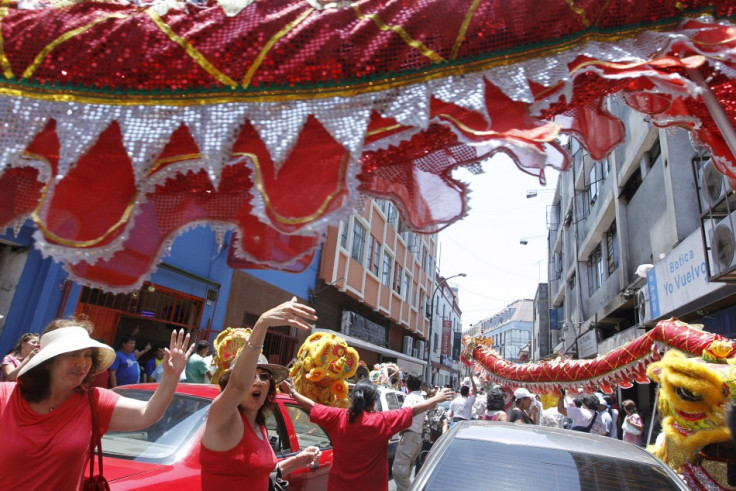 The fire-breathing dragon is one of the mythical creatures in the Chinese Zodiac Cycle and January 23, 2012 marked the beginning of the Year of the Dragon.
The Chinese zodiac consists of 12 parts, each represented by different animals. The first animal of the Chinese zodiac is the rat. Ox, tiger, rabbit, dragon, snake, horse, sheep, monkey, rooster, dog, and pig complete the calendar.
Millions of people around the world celebrate the festival with firecrackers, traditional food and performances.
Here are some facts associated with Chinese New Year celebrations.
1. Spring Festival: In China, the Lunar New Year is officially known as "Spring Festival". Every year, it falls in January or February on the Roman calendar and marks the 15-day Chinese holiday.
2. Red is considered very auspicious and red paper hangings are a must in the festive season. Red is believed to scare away evil spirits and bring good fortune, happiness, wealth and longevity.
3. Wearing red clothes and gifting money in red envelopes are also part of the traditional rituals associated with the Chinese New Year celebrations.
4. The biggest human migration in the world happens during the Chinese New Year. Nearly 210 million people travel home during the celebrations.
5. The Chinese New year is that time of the year when most telecom companies register the highest number of text messages.
6. Round food items are an inevitable part of the Chinese New Year celebrations which is believed to bring never-ending wealth.
7. The mythical dragon is associated with success and fortune. Babies born in the dragon year are considered to be intelligent, successful and lucky.
8. Dragon dance is another inevitable part of the celebrations, with dancers performing through the streets with huge dragon figures.