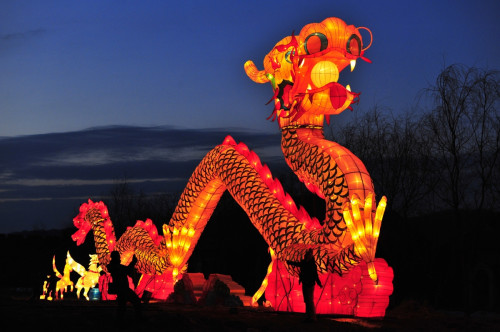 Chinese New Year 2014 dawns on 31 January, marking the start of the Year of the Horse, according to Chinese zodiac, and setting off 15-day celebrations in China.
The festive Lunar New Year, as it is called, will see streets decked with red paper lanterns and lights while the cultural extravaganza associated with the annual festival will feature lion and dragon dance, street dance performances, processions and more. Almost all the decorations are done in red, which symbolises prosperity in Chinese belief.
The Chinese Lunar New Year celebrations end on the day of Lantern Festival, which falls on the 15th day of the first month.
Each day of the festivity has a unique significance. For instance, the God of Wealth is believed to shower his favour upon devotees and bring them fortune on the fifth day of the Chinese New Year. On the ninth day of the festival, the birthday of King of Heaven, Jade Emperor, is celebrated.
Where to celebrate in London
With 15-day-long celebrations, Chinese New Year is China's biggest festival. It is also celebrated in countries with significant Chinese populations, including Hong Kong, Macau, Taiwan, Singapore, Thailand, Indonesia, Malaysia, Mauritius and the Philippines.
However, London hosts the largest Chinese New Year celebrations outside Asia, according to Visit London, though the festivities last only for a weekend. This year, the celebrations will take place on 2 February.
As preparations get underway in China for New Year celebrations, here is a list of places to go in London for experiencing the 2014 Lunar New Year fervour.
West End
The spot witnesses hundreds of thousands of people every year who descend here to greet each other "Kung Hei Fat Choi" (or Happy New Year).
Central London
The 2014 Chinese New Year celebrations will begin with a parade along the Charing Cross Road at 10 am. Be there in time the coming Sunday to see the dragons and lions snaking along the route and at Shaftesbury Avenue.
Trafalgar Square
The tourist hot spot of London will get ablaze with electric performances by visiting artists from China.
London's Chinatown
No festivity is complete without scrumptious meals and Chinese New Year ought to be about having a taste of traditional cuisine in and around London's Chinatown in Soho. According to Visit London, Chinatown has almost eighty restaurants offering cuisine from across the Far East. Traditional food stalls are of course an addition during Chinese New Year.
On 2 February, there will also be lion teams and dragons circulating around Chinatown to provide the perfect zeal of the celebrations; local artistes will perform on a stage at the end of Dean Street. What's more? Get some Chinese lanterns from the craft stalls there.
London Eye
On the Chinese New Year's Eve, the London Eye will be lit red and gold in celebration from 5.30pm. There will also be live performers to add to the enjoyment.