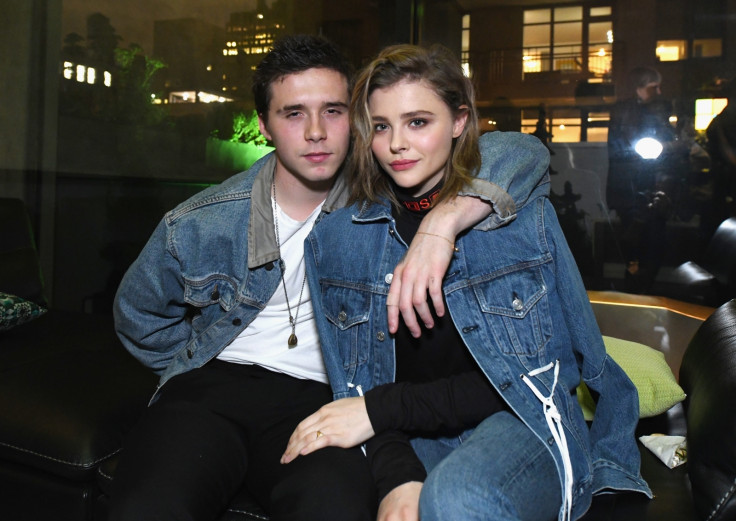 Chloe Grace Moretz shared a cute picture of boyfriend Brooklyn Beckham on Instagram and declared that she will love him forever.
In the black and white photo, Beckham is seen wearing a sweatshirt with the quote "Love me forever." Moretz simply captioned the image saying: "I will."
Although the actress' message was brief, it says a lot about how the young couple's relationship is going at the moment.
They started dating in 2014, but split a year later. The two got back together in 2016 only to break up a few months after that.
But Moretz, 20, and Beckham, 18, seem to be doing great after rekindling their romance in September this year.
They pair announced their reunion after Moretz commented with a heart emoji under one of Beckham's Instagram posts.
After Moretz posted the recent picture of David and Victoria Beckham's eldest son and declared her eternal love for him, fans went crazy over the loved-up couple.
One gushed: "Stop being so cute gaissss, I can't stand it @chloegmoretz @brooklynbeckham"
Another said: "Cuteness overload!!"
A third commented: "Dont ever break up you two"
Another fan said: "YOU GUYS ARE MY FAVOURITE COUPLE EVER!"
One even suggested they get married saying: "Not i will, i do.... "
The Kickass actress' Instagram is filled with her beau's pictures and a few of them even have the same caption "I miss you".
Moretz and Beckham have never shied away from the public eye and were recently spotted cuddling and kissing outside a restaurant in Chelsea, New York.
Beckham has recently moved to the US to study photography at the Parsons School Of Design.
At the time, his mother Victoria shared an emotional Instagram post saying: "Amazing A level results and off to college. We love you so much and will miss you. #yesiamcrying #emotional x."
The fashion designer also shared a hilarious post making fun of her son's new punk hairstyle and blamed girlfriend Moretz for the new look. She wrote: "@brooklynbeckham X That hair!!! @chloegmoretz what have u done!! kisses x
While she reignites her romance, the actress has also received other good news. A judge has granted her a permanent restraining order against stalker Terry Daniel Quick.
The mentally ill man is said to have followed Moretz and Beckham to a concert and even reached her doorstep.