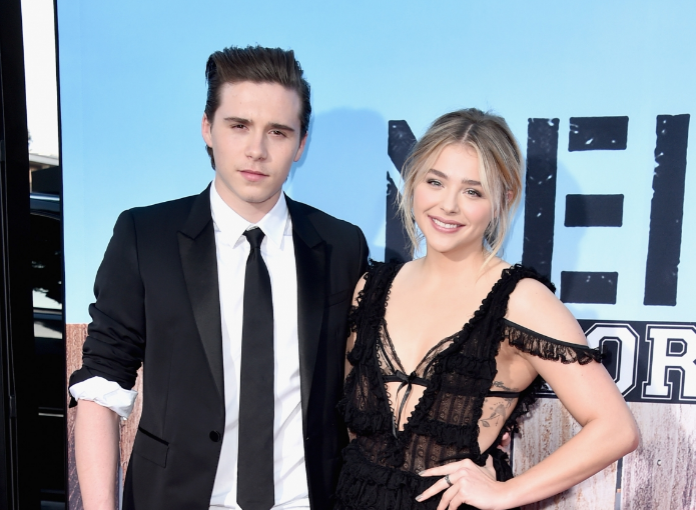 Brooklyn Beckham and Sofia Richie's late night stroll in Beverly Hills on 31 October sparked dating rumours as they recently broke up from their partners Chloe Moretz and Justin Bieber, respectively. While speculations were abuzz about Moretz's reaction to the news, here is the scoop.
According to a Hollywood Life report, the 19-year-old American actress and model is not bothered about Beckham's closeness with Bieber's ex as she has 'bigger things' to do.
"Chloe's mind is not on Brooklyn and who he's hanging out with. She's on a movie right now and that's got all her attention. Well, that and the election, she's thinking about bigger things. She and Brooklyn are not dating right now but she's got no hard feelings," a source told the gossip website.
Soon after Beckham and Richie were spotted on 31 October along with a group of friends their romance rumours started spreading. However, a source confirmed Daily Mail that the couple was not dating.
Beckham and Moretz split in September after dating for two years. In mid-October, The Brain On Fire actress was flirting publicly with Shawn Mendes on social media and Brooklyn was reportedly 'hurt and disappointed' by the news.
Sofia and Bieber have had a whirlwind romance during this summer as they were spotted getting cosy throughout their vacation. However, the couple separated pretty quickly as the Baby singer reportedly found their romance was "super-hot and heavy". "He doesn't want a relationship right now, he wanted to cool things down. It wasn't an intentional cool-off. It just sort of happened on its own," a source told E! News.