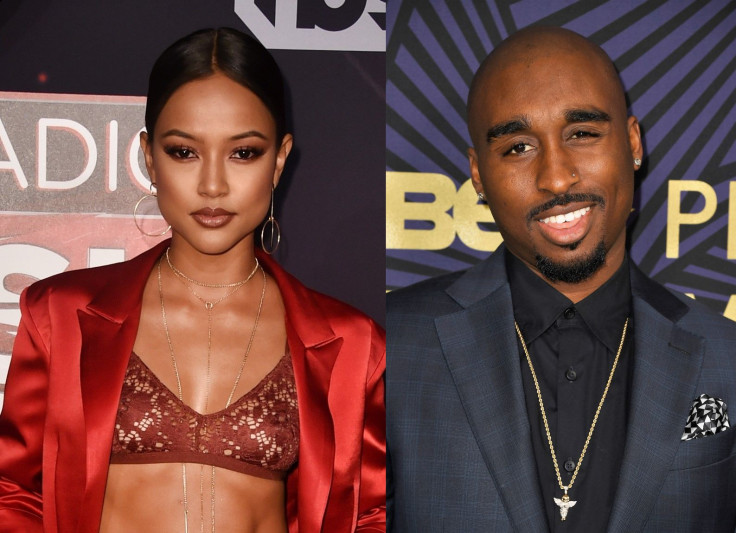 Chris Brown's former girlfriend Karrueche Tran might be claiming that she's single — despite the rumours surrounding her and rapper Quavo — but perhaps not for long. The Claws star has a new man who has a crush on her — actor Demetrius Shipp Jr — who recently admitted to being smitten by the actress.
Demetrius, who stars in the 2017 biopic All Eyez On Me as legendary singer Tupac Shakur, made the revelations during an appearance on the Wendy Williams Show. As the show host gradually took the conversation from the film and the actor's apparent similarities with Tupac to his private life, Wendy prodded Demetrius about his crushes.
Much to the surprise of the audience and Wendy herself, the 28-year-old actor revealed his first celebrity crush was none other than actress Regina Hall.
But on a more serious note, Demetrius later confessed to being interested in the Claws star, who has been in an on-off relationship with Brown in the past.
Dishing on his feelings for Karrueche, the Tupac actor revealed that he was smitten with the model-turned-actress when he first saw her during the BET Awards.
Mistaking the 29-year-old TV star to be the girlfriend of rapper P Diddy, Wendy told the actor that it might take him a few more years and blockbusters to win over Karrueche.
However, upon being corrected by Demetrius, the show host went on to cheekily complement him by saying: "You do follow hot topics". She then encouraged him to pursue Tran now that she was not dating Brown and was single.
Meanwhile, speculation is rife about a romance between the actress and Migos rapper Quavo. Although the pair have made a number of cosy appearances together, Karrueche seems to be playing coy when it comes to her dating life.
"Is what true?!" Karrueche repeated when recently asked about her alleged romance during her show's premiere. But the actress soon shot down the rumours with a blunt "no" adding "I am single right now".
Before being linked to Quavo, the actress had been dating Brown until they parted ways for good in 2015.