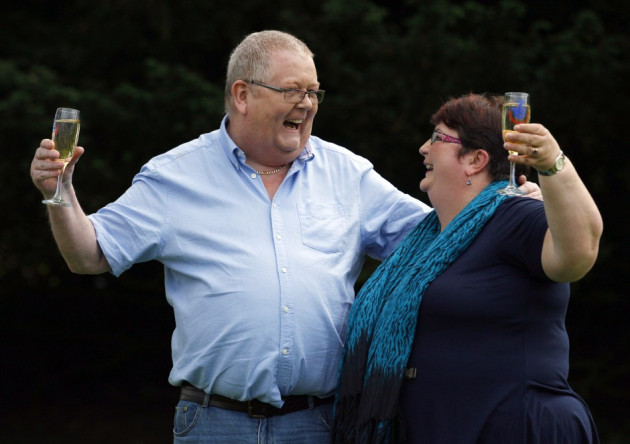 Chris and Colin Weir, the couple who won £161 million on EuroMillions last year - the biggest amount ever won - have donated £28,000 to give a disabled toddler the chance of walking.
Ruth Swinton, the mother of three-year-old Skye, wrote to the Weirs explaining that her daughter needed spinal surgery, having been born with spastic diplegic cerebral palsy, leaving her with walking difficulties.
The Swintons had already raised £12,000 for the £40,000 surgery their daughter needed, so wrote to the multi-millionaires asking them for help.
She said: "I sent the letter months ago and so I just thought it would have been politely binned, so to get the phone call with the news was just fantastic.
"There are still a number of medical hurdles to ­overcome. But now that we have raised the money we need, we can now concentrate on helping Skye reach her full potential.
"We were absolutely blown away with the support we've had, and the generosity we have been shown."
In a statement explaining their decision to help Skye, the Weirs said: "Skye faces many challenges in the next year and she needs her mum and dad to be focused on her. That's why we've given a donation.
"Without the additional worry and pressure of fundraising, their time can be spent on Skye."
Skye was born two months early and weighed just 1lb 15oz. Speaking to the Gloucestershire Echo earlier this year, Ruth Swinton talked about her daughter's condition.
"It is heart-breaking to watch her try to do things her friends can do easily but she will never do without effort," she said.
"She is a determined little thing and a bit stubborn, and she is going to have to overcome so many things in her life, but she has always kept smiling."
Since winning the lottery last year, the Weirs have donated vast amounts to good causes. In August, the couple donated a five-figure sum to 13-year-old Kieran Maxwell.
Kieran was diagnosed with Ewing's Sarcoma, a rare and aggressive form of cancer. As a result of the disease, he had to have his left leg amputated.
After hearing his story, the Weirs donated the money so he could get a new prosthetic leg. His mother, Nicola, said: "Kieran started yelling and dancing around when he heard. He couldn't believe it. I am still pinching myself.
"What they have done for Kieran will be a small drop in the ocean for them but for him it will change his life. He can go back to being a normal boy. He can be himself. Words cannot describe what they have done."
The Weirs have also spent a great deal on their local community. In September, the couple officially opened a new artificial pitch at the Largs Thistle football ground after donating £800,000 towards it.
They also gave £120,000 to the Haylie House care home in Largs so it could be refurbished, and donated their £180,000 former home to their neighbours after they moved into a new property.