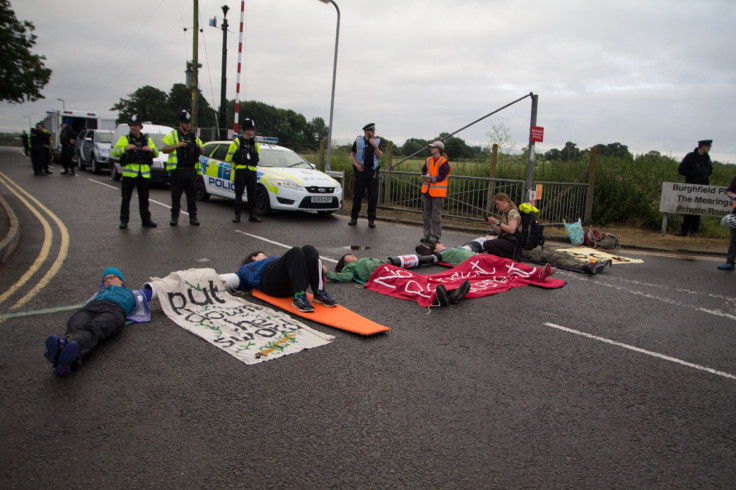 A group of Christian activists who protested against a nuclear weapons factory have been sentenced after a judge rejected their defence that their actions should be considered a "crucial part" of their religion.
The five members of the Put Down the Sword campaign group – Nina Carter-Brown, 33, Nick Cooper, 34, Angela Ditchfield, 38, Joanna Frew, 37, and Alison Parker, 33 – were found guilty of wilful obstruction of the highway following their demonstration outside the Atomic Weapons Establishment (AWE) plant in Burghfield, Berkshire, on 27 June 2016.
The protest, which involved them using superglue and chains to block the road leading to the entrance of the plant which builds the UK's nuclear warheads, was part of a month of "No faith in Trident" demonstrations with the Trident Ploughshares group.
The group, whose name is a reference to a Bible verse, argued they should not be prosecuted due to freedom of religion as they were "following Jesus' example of non-violence" by staging the protest.
The group argued their protest was covered by Article nine, 10 and 11 of the Human Rights Act, which allows people to practise their religion and that "conspiring to commit mass murder through nuclear weapons is a crime against humanity and against God".
The judge at Reading magistrates court rejected their argument and found them guilty. Each of the five defendants was given a six-month conditional discharge and ordered to pay £100 ($125) each in costs, plus a £20 court surcharge.
In a joint statement, the five defendants declared: "We stand by what we said in court, Trident is an illegal and immoral waste of money, a crime against humanity and God.
"The prosecution said we could just have joined in a prayer vigil to the side of the road, instead of lying in it; we said our consciences wouldn't allow that.
"We believe prayer is important but sometimes our faith compels us to put our whole bodies in the way of injustice and violence. The Bible says religious acts are meaningless unless we also stand up for the poor and needy; we are called to bring a just peace with hope for all.
"We will continue to seek peace, and to take the consequences of doing so. It's a small price to pay for the chance to challenge an evil like nuclear weapons."