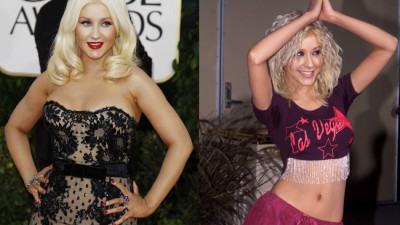 American singer Christina Aguilera's weight has always fluctuated, from the time she first entered the pop scene. However, this time she's looking heavier than ever; aside from when she was pregnant. So much so, in fact, that her weight gain was the only thing everybody noticed after her sizzling performance at the Michael Jackson tribute concert on Oct. 8.
The pop diva performed "Dirty Diana" and "Smile" at the "Michael Forever" event. Her act got rave reviews but her outfit - a black corset/leotard and fishnets, which some felt made her look fat, was what got all the tongues wagging.
The singer's weight has fluctuated over her years as a pop icon. After her divorce from music producer Jordan Bratman in October 2010, she was sporting a noticeably fuller figure. Over the last few months, Aguilera, 30, had slimmed down again, earning nods for the weight loss. Now it looks like all that weight is back.
Kelly Osbourne got back at Christina while discussing her weight gain on E!'s Fashion Police show.
"[Aguilera] called me fat for so many f---ing years. F--- you, you're fat, too," she said on the show, "Maybe she is just becoming the fat b---h she was born to be."
According to celebritydietdoctor.com, a source close to Aguilera confessed that her weight gain was almost inexplicable, especially since she's been very active, particularly while dancing in the musical Burlesque.
"It's bizarre Christina has put on so much weight as she's been doing lots of dancing and high energy work for Burlesque," the source revealed, "The whole movie is choreography and she was very active so I'm surprised she's piled on the pounds so quickly."
Aguilera had also recently confessed that she was an emotional eater.
"When I first got engaged, I gained weight. We call it the 'Love chub'," said the singer in the report on celebritydietdoctor.com.
The same report also suggested that Aguilera may have put on almost 14 pounds in recent times.
Check out Christina Aguilera's fluctuating weight, from 2000 to 2011.
MUST READ: Top 10 Best New iPhone Apps
MUST READ: iPhone 4S: Ten Things You Need to Know