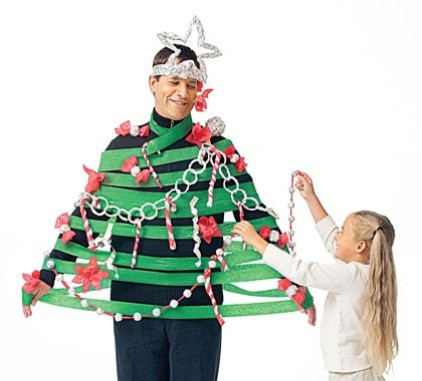 As Christmas draws near, you may be racking your brain for ways to keep your loved ones off the sofa this festive season.
While family days out often feel like the only way to spend quality time with your loved ones away from the gadgets and gizmos, they can be pricey.
Not to worry, help is at hand.
Thanks to IBTimes UK, your family doesn't have to miss out on the fun and your bank account doesn't have to take a hammering.
Here is a little inspiration for free family activities that you can all get involved in this Christmas...
Make a Walking Christmas Tree
Just choose a volunteer to be the "tree" and let the fun begin! With just green and red crepe paper streamers, aluminium foil, and masking tape they will be transformed into a decorated Christmas tree in this hilarious after-dinner activity. Don't forget to take a snap of the end result for the family album.
Christmas Crafts for the Kids
Avoid the long queues and add a personal touch to the season by making your own Christmas cards and decorations. Cards can be made with household materials such as craft paper, glue, plain notecard, paint and glitter. Homemade decorations such as streamers and chains cost next to nothing to so why not get all the family involved.
Festive Baking
Nothing says Christmas more than homemade treats such as pies, cakes and freshly baked bread.
To get you started, here is a recipe for Christmas Gingerbread Men:
Prep: 20 mins | Cook: 10 mins | Extra time: 1 day 30 mins
Ingredients
Serves: 48
100g butter
100g caster sugar
1 egg
225ml treacle
1 teaspoon bicarbonate of soda
1 1/2 teaspoons warm water
450g plain flour
1 1/2 teaspoons ground ginger
1 1/2 teaspoons ground cinnamon
1/4 teaspoon salt
50g sultanas for decorating, if desired
How to Make
1. In large bowl, cream butter, sugar, egg and treacle. Dissolve bicarbonate of soda in warm water and add to butter mixture. Beat until smooth. Mix in flour, spices and salt until well blended. Cover and chill for 24 hours.
2. Preheat oven to 180 C / Gas mark 4. Grease baking trays. Roll out dough to a thickness of .5cm on a floured surface. Cut out gingerbread men using man-shaped cutters and place 5cm apart on baking trays. Use sultanas to make eyes, noses and buttons.
3. Bake 10 to 12 minutes in the preheated oven, or until firm. Let cool on wire racks.
Charades
A guessing game is an ideal way to get everyone on their feet and every generation of the family involved. All that you will need to do is split up into teams and have a stop watch ready.
The game works by a single player acting out a phrase such as a film or book title in front of his/her team-mates and they have to guess it before time runs out to win points.
You decide how many games there will be and what the prize is for the winning team. A second helping of dessert maybe?
Scavenger Hunt
Why not arrange an hilarious and challenging scavenger hunt at your Christmas party this year? Just split your friends and family into two or more teams and hide clues around the house, in the garden or even in the neighbouring area. This hilarious hunt for the prize will definitely put everyone in the festive sprit.