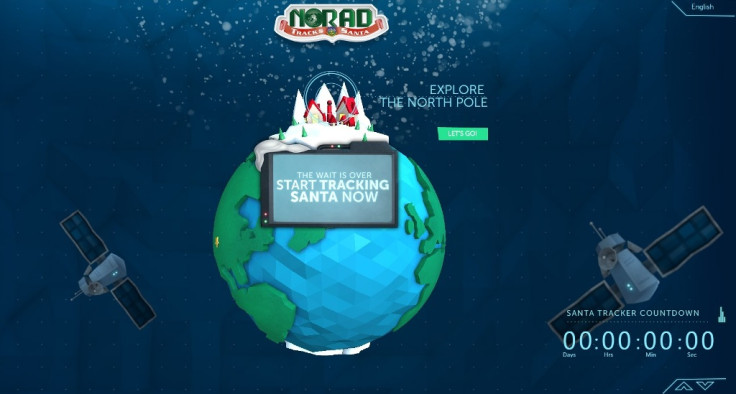 NORAD's Santa Tracker is a popular Christmas tradition which helps children all over the world track Santa Claus as he makes his rounds delivering presents.
The origin of NORAD's Santa Tracker dates way back to the 1950's and presents quite a sweet, innocent story of how it all began.
However, according to a Paleofuture report, the real story paints a slightly different picture.
First, let's check out the popular version of the origin story: (via Paleofuture)
On Christmas Eve 1955, a young boy in Colorado Springs dialed a Sears-sponsored hotline that let kids talk with Santa Claus. But instead of reaching Santa, he was connected to the red phone at CONAD, the military command center charged with patrolling the skies for any nuclear missiles coming from the Soviet Union. Apparently, the local newspaper had mistakenly printed the wrong number.

At first the man in charge in Colorado Springs, Colonel Harry Shoup, thought the child caller was a joke. But eventually he realized what had happened and played along in good spirits, telling his men to field calls all night from kids trying to reach Santa. And so a CONAD tradition (now kept alive by NORAD, known Santa-trackers) was born.
Nice, sweet story, right? Well, reportedly, it's not entirely true. Some parts of the 'wrong phone number myth' are accurate, but the origin tale has changed with each generation over the past six decades.
Here's how the alleged real version plays out:
Yes, Colonel Shoup got a call at CONAD that turned out to be a wrong number. But it wasn't on Christmas Eve and there was no misprint in the newspaper, even though Snopes claims there was. It was just some kid who happened to get his numbers mixed up. And as for Colonel Shoup's response? It was a lot more rough and cynical, considering the Christmas season:
"There may be a guy called Santa Claus at the North Pole, but he's not the one I worry about coming from that direction," he said, as published in the December 1, 1955 Pasadena Independent newspaper.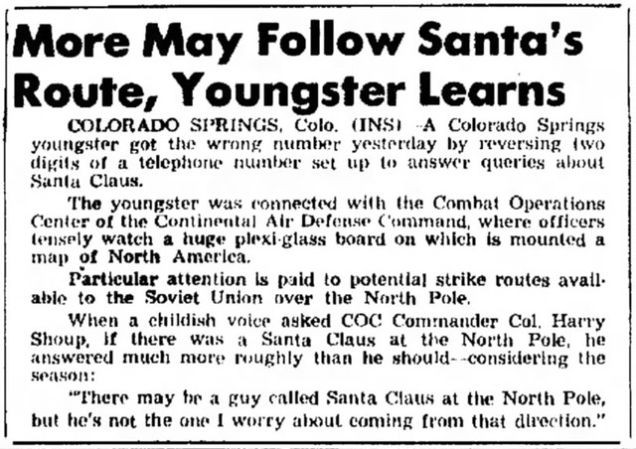 This mistaken call was seen as a boon by the US military and helped in planting the seed of a Santa idea.
The phone call actually happened on November 30, 1955 but that coming Christmas Eve, the military embraced this idea of Santa being protected by American forces.
"In a way, Santa was enlisted as a character that would help fight the good fight against non-believers," states the report.
This turned out to be quite a smart move by the US military to improve/ soften their image in the eyes of the general public. When American kids asked their parents what NORAD was, the response they got was, "those are the people who help Santa."
NORAD's Santa tracker programme is one of the most successful military PR campaigns of the last century and has set an example of how to run a Christmas-themed PR campaign. And it's still going strong.