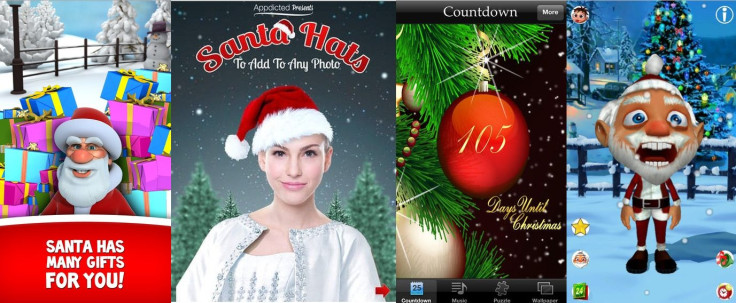 Christmas Eve is just a few hours away. Here are the top apps for your iPhone and iPad to usher in the Christmas spirit and make the celebration bigger than ever.
12 Days of Christmas - Polk Street Press Singalong ($0.99): This app offers best performance with iPad 2+ or, iPhone 4+ and iOS 7. With beautiful artwork by well known illustrator Lesley Breen Withrow, there are animations and an original musical arrangement. Besides, with this you can record video or, audio while singing along and share it via email (for iPad only).
Santa Tracker ($0.99): This is the best Santa Tracker app on the App Store. There is a new feature added in it called Advent Calendar. When you open it in December, the Advent Calendar reveals a Santa sightings wallpaper.
Appy Christmas (Free): It features a Talking Santa, Countdown Timer to 25 December, new Xmas single Christmas and songs by the Red Squares from their album, Our Christmas Hits.
Christmas (Free): This app is a complete Christmas package in itself. It contains Christmas jigsaw puzzles, Christmas music, Christmas wallpaper images and a beautifully designed interface.
The Christmas List ($1.99): This is a noteworthy app with great features. Lets you enter multiple gifts quickly, sync lists via AirDrop or, email, enter a gift once and assign to multiple recipients, track budgets per person, add your favourite stores to a pick list of popular retailers and much more.
Santa Hats ($0.99): Makes any photo ready for Christmas by adding Santa Hats to everyone in the photos. For this you just simply have to upload a photo into Santa Hats and tap on the Santa hat you want to add, and finally adjust the hat's size and placement. You can choose any hat out of a total of 25 available options.
Best Christmas Stories ($1.99): You get the best collection of Christmas stories with full text. There are folks and fairy tales by Charles Dickens, Freeman, Oliver Thorne, Miller, Lincoln, Lane, Susan Coolidge and several others. You can use this app on iPad in full screen.
Talking Santa (Free): Talking Santa, with characters from the Talking Tom and Friends collection, enables you to create and share 3D video animation greetings and Christmas cards. You can share customised Christmas cards by MMS, email, Facebook, Twitter and even on YouTube. This app is PRIVO certified.
[Source: Redmond Pie]