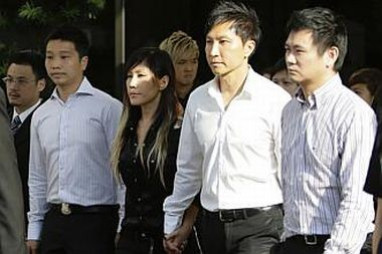 The founder of one of Singapore's richest evangelical churches has been charged with fraud for allegedly funnelling millions of dollars of church funds to fund his wife's singing career.
City Harvest Church founder Kong Hee, 47, was charged with three counts of conspiracy to commit criminal breach of trust in connection with accusations he syphoned at least S$24m (£12m) to fund for the singing career of his wife Ho Yeow Sun, known professionally as Sun Ho.
Kong faces up to 20 years in prison or a fine for each charge if found guilty.
Four other executives of the City Harvest Church have also been charged follow a two-year police investigation.
Church board member John Lam Leng Hung also faces three charges of criminal breach of trust.
The other three executives face charges of criminal breach of trust and falsifying accounts. All five have had their passports impounded and have been suspended from their duties.
Each have been offered bail of $500,000.
City Harvest, which has a congregation of more than 30,000 people, said that church operations would continue as usual and declined to comment on the case.
The Church is famous for holding services which resemble pop concerts. It has affiliate churches in Singapore, Malaysia, Indonesia, India, Taiwan, Brunei and Australia and is a registered charity in Singapore.
The investigation into alleged fraud committed by Kong was sparked by local media reports that depicted Ho's lavish lifestyle, including a $20,000-a-month Los Angeles mansion.
Ho has released several Mandarin and English albums in her 10-year career, including a 2007 collaboration with Wyclef Jean called China Wine. Jean also produced her English album.
Ho has not been charged following the investigation.
Kong was noted for his charismatic preaching style in front of tens of thousands of worshippers during services at the Suntec Convention Center. He said on his Twitter account the day before he was charged: "Tough day. I trust in You, Lord Jesus. Thy kingdom come, Thy will be done!"