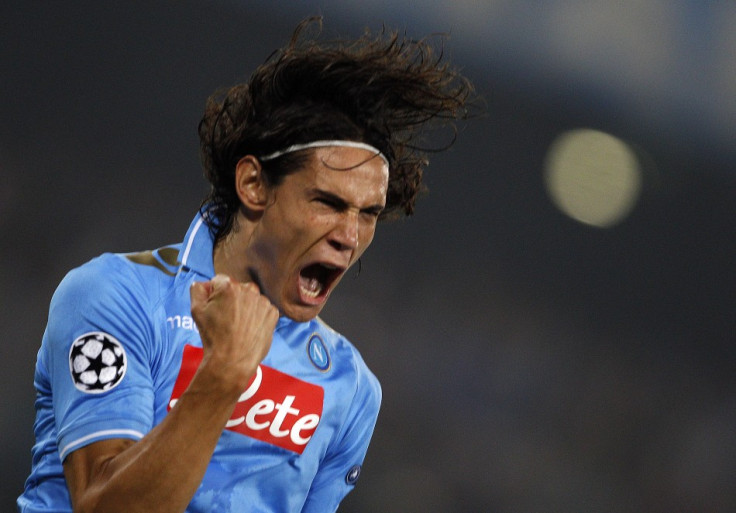 Manchester City have shown interest in Manchester United targets Marek Hamisk, Ezequiel Lavezzi and Edinson Cavani, with the trio on Roberto Mancini's wishlist for the January transfer window.
All three players have taken Napoli to new heights over the last season and a half, with the club currently in contention for a final 16 spot in the Champions League, and boasting a position of sixth in the Serie A table.
Manchester United have been monitoring the trio for some time, but City are now watching them too, according to the club's chief scout Carlo Cancellieri.
"I confirm the interest of Manchester City in Hamsik, Lavezzi and Cavani, and I think that this should only please the Napoli fans," Cancellieri told Radio Crc.
"Napoli are a growing team who do not want to sell their best players. The strength of Napoli is the very soul and compactness of the group.
"Cavani in particular has always been my 'bullet', a player I like a lot. Other than Ibrahimovic, Cavani is the most incisive attacker in Serie A. And his agent knows well Manchester City's appreciation for his client."
While Cavani has scored 30 goals in 43 appearances for the Italian side, Hamsek has dominated the midfield and has scored three goals so far this season. United are on the lookout for a replacement for the retired Paul Scholes, and are also hoping to bolster their squad in January to be capable of challenging City for the title - and Hamsek would be an apt replacement for the Englishman.
Lavezzi, playing alongside Cavani and Hamsek, creates an almost unstoppable forward line, and with clubs in the Premier League turning to a more attacking style of play, both United and City will be looking at the three in the hopes of a possible deal in January.
And while United are one of the biggest clubs in the world, City are able to offer higher wages and an almost limitless transfer budget that could see the trio offered deals they might not be able to refuse.
Both sides will have a tough task on their hands talking Napoli into a deal though, with Cavani recently insisting that his career would be with the club for the long term.
"My future is here, there are no doubts," he told Radio Mana Mana three days ago.
"The season is long and difficult and I'm only thinking of Saturday's challenge with Lazio. We're taking things one game at a time."