Civilians have hanged an Islamic State (Isis) militant from a lamppost, after the jihadists launched a dawn counter-offensive in the Iraqi city of Kirkuk, say reports. In a bid to divert attention from the larger city of Mosul, 100 miles to the north-east where Daesh (Isis) are coming under sustained attacks, the jihadists launched a surprise offensive on Kirkuk with at least 42 insurgents attacking the city.
Multiple explosions rocked the provincial headquarters as gunfire rang out and smoke billowed into the sky. IS targeted the oil- producing region, killing 19 members of the security forces and workers at a power station, including two Iranians, sources said.
The fighters attacked government buildings, the town hall and a hotel, killing at least six police officers, according to reports. The Turkmeneli TV station said in a news bulletin that one of their reporters, Ahmet Haceroglu, was killed by an IS sniper while covering the fighting.
Smoke was seen billowing over the city, with the streets deserted out of fear of militant snipers in the buildings surrounding the city.
Rudaw English, a Kurdish news network operating in northern Iraq, reported that the jihadists woke up residents of the city at dawn, with the attack leaving 45 injured. Rudaw also filmed the dead jihadist hanging in the street.
It was also reported that two of the suicide bombers blew themselves up, while security forces managed to kill one before he detonated his suicide vest. A state of emergency was declared soon after the attack and Friday sermons were cancelled in the city.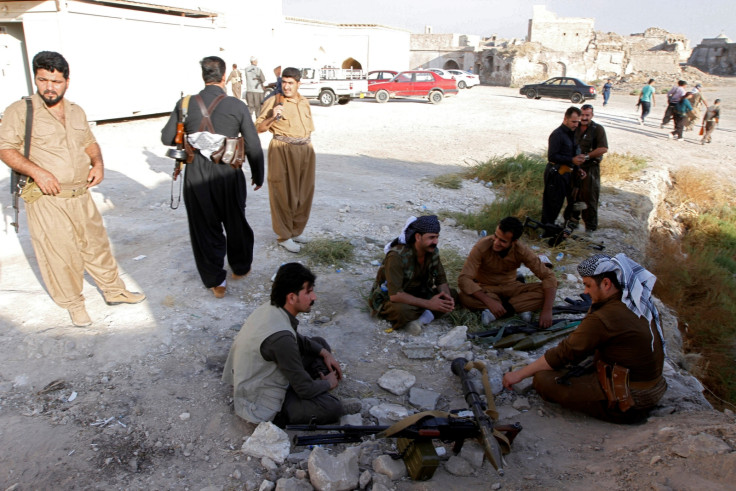 Kirkuk Governor Najmaldin Karim said according to Al-Jazeera, that the militants split up into small groups and spread out to five areas in the city. "We have been able to neutralise four of those places.
"There is only one place with one person left in it - the others were killed - and hopefully that will be taken care of in the next hour or two," Karim said. "They came to die. They came to inflict as much damage as they can and either blow themselves up or die in the firefight."
It is not clear how many IS fighters are left fighting Kurdish forces, or if indeed the city has been made safe. IS assumed control of Kirkuk briefly in the summer of 2014, as Iraq's army and police fled in the face of a lightning advance by IS.
Yesterday, (Thursday 20 October) Iraqi Prime Minister Haidar al-Abadi said that the assault on Mosul is going quicker than expected, despite a US service member being killed in a roadside explosion. Iraqi forces have now taken control of Bartella, the last remaining village on a key route east of the city.