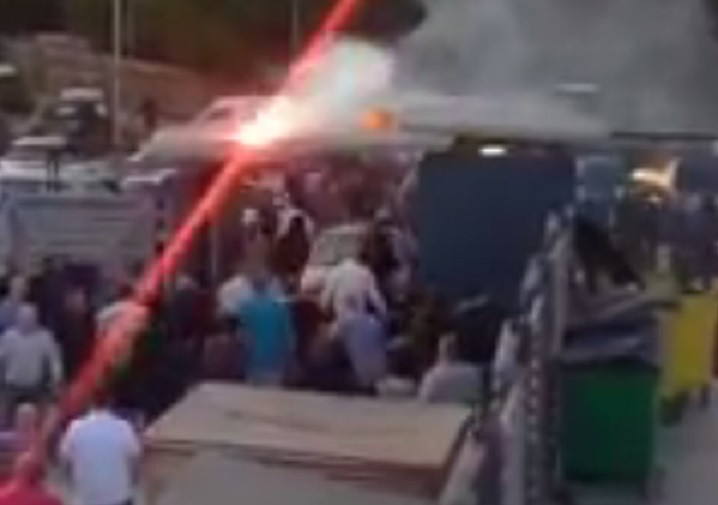 A pre-season football game between two non-league teams had to be called off after violence broke out after fans was "targeted" by a far-right group. The match between Thamesmead Town and Clapton FC was cancelled in the first half after the trouble erupted outside the ground in Bayliss Avene, south-east London.
Two people were treated for head injuries after missiles and bottles were thrown at the fans. Video footage captured by eyewitnesses also appears to show one of the group taking part in the violence shouting "we hate n*****s". Fans of Clapton FC – known as the Clapton Ultras – claim they were purposely targeted in the attack because of their campaigns against racism and homophobia.
The club, based in Forest Gate, east London, have become known for their campaigns against fascism in football, including displaying rainbow flags at the end of their games and banning all racist, sexist and homophobic chanting from the stands at their ground. The group said they have "no history or rivalry with Thamesmead fans" and the attack was not made by them.
Metropolitan Police said as many as 100 people were involved in the "short period of disorder", with many of those wearing face coverings and using weapons.
A spokesperson for the Clapton Ultras said: "In the last few days, we received threatening messages from a fascist group regarding this fixture. This information was passed on to the football club and its fans, who decided to travel as one group to the game as fan safety is the number one priority.
"As we arrived at the game around 15 minutes after kick-off and began to enter, Clapton fans were immediately attacked with weapons and missiles by a large group already present inside the ground, who threw glasses, bottles, bricks, signs and a fire extinguisher at Clapton fans, the vast majority of which had not been able to even enter the ground.
"In addition to causing minor injury, the missiles damaged several parked cars in the car park outside the ground. Thankfully no one was seriously injured.
"This was a planned attack, orchestrated by fascists and their allies as a politically motivated assault on Clapton fans for our politics of anti-sexism, anti-homophobia, anti-racism and anti-fascism. Their interest was never in the football and they only attended the game in order to attack us."
In a tweet, Thamesmead Police apologised to the Clapton fans for suggesting the violence was a result of them attacking Thamesmead FC fans.
Chief Superintendent Jeff Boothe, Bexley Borough Commander, said: "Thamesmead Town Football Club is a quiet club with a nearby sports centre.
"It is unacceptable that the match had to be abandoned because of the mindless behaviour of those who were obviously intent on causing trouble.
"I am conscious of the impact this type of incident has on the local community and with that in mind I have increased patrols to the local area. My officers will be out and about speaking to people, so if you have a question please do not hesitate to approach them.
"I would also like to take this opportunity to appeal to anyone who witnessed the events or has information about the people responsible to contact the police."
A Met Police spokesperson added: "At approximately 8.10pm on Tuesday, August 4, officers who were on-duty at Thamesmead Town FC on Bayliss Avenue, SE28, witnessed a group of individuals throw items towards a second group leading to a short period of disorder.
"Officers, including the Territorial Support Group and a police helicopter attended. The group was dispersed and a short time later, officers stopped approximately 40 people who had boarded a bus nearby. Two people have been treated for head injuries. Enquiries continue."