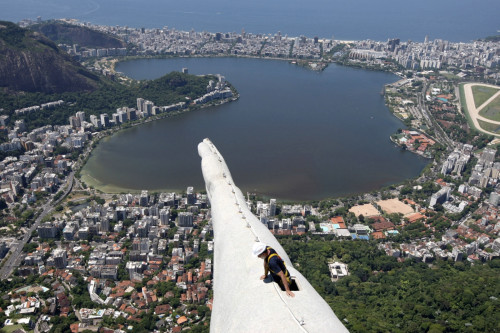 It's a job which requires a good head for heights: repairing the huge Christ the Redeemer statue which towers thousands of feet over Rio de Janeiro in Brazil.
Specialists put themselves quite literally in the hands of God by scaling the concrete arm of the statue to fix damage to its finger caused by a lightning strike, last week.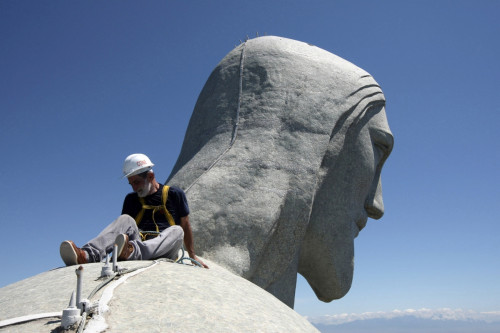 Two fingers on the right hand and the head of the figure are in need of repair, after the violent electrical storm. The repair job is predicted to take up to four months, with a finish date just before the start of the football World Cup.
Christ the Redeemer stands overlooking Rio from 2000 feet up. This chap dutifully donned a hard hat for the vertigo-inducing job, but it probably wouldn't give much protection at such a enormous height. Perhaps he put faith in an even higher power, instead.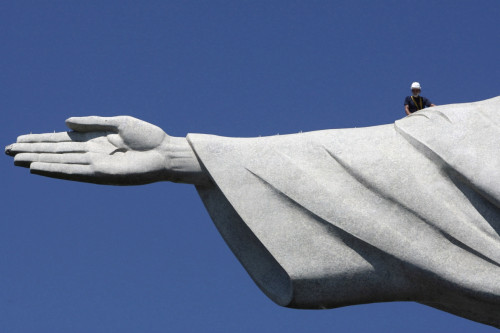 Dating from 1931 and standing 100m high at the top of Corcovado Hill, the Christ the Redeemer statue is one of the seven new wonders of the world.
It is made up more than 700 tonnes of reinforced concrete – complete with lightning rods. They are set to be replaced following the latest electrical strike.