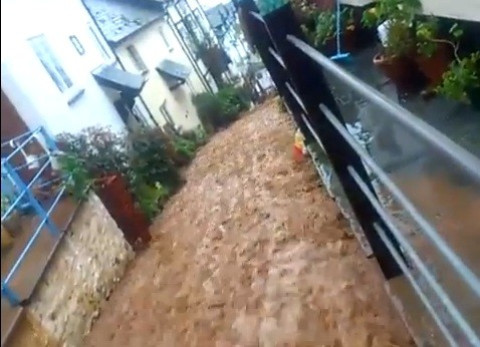 Heavy rain has led to flash floods in the historic village of Clovelly, north Devon, damaging homes and pulling cobbles from streets.
The downpour burst the banks of a stream which runs through the village, sending the water gushing down the streets and into the sea.
Residents of Clovelly, which has been a privately owned fishing village since 1738, said about two inches of rain fell in an hour and 12 homes were flooded.
Paula Cook, a resident of the popular tourist destination, said: "It was like the high street had been turned into a river. I have never seen anything like it."
Another local, Sally Stevens, said: "I think we have had the worst of it, but there has been a lot of damage caused.
"It was mostly between 12.30pm and 2pm ... The heavy rain has gone now, but the damage has been done."
Today, Clovelly North Devon tweeted about the clean-up. @ClovellyVillage wrote: "We consider ourselves lucky there wasn't more damage & that no one was hurt! The clean up continues today."
Although no one was injured, two motorists had to be rescued after they became stranded while driving through the flood water.
The Environment Agency currently has 55 flood alert warnings in place, meaning people should be prepared. A further 12 flood warnings are in place for areas where flooding is expected.
The Met Office has issued severe weather warnings for areas of Scotland, with heavy and persistent rain expected in the north east today. "This may well lead to some flooding in places with disruption to travel," it said.