Mothers who feel it's not all sunshine and rainbows as a new parent needn't feel alone any longer. BBC1's hit drama In the Club returns to the small screen for a second series on 3 May at 9pm – and follows the trials of a group of expectant pals. Starring the original cast, such as Hermione Norris, Katherine Parkinson and Jill Halfpenny, Kay Mellor's 2014 series shows how parenthood can be messy, ominous and confusing in this season now that the ankle biters have arrived.
The last time we saw the six pregnant friends was when they stumbled upon each other during a local Parent Craft class as they feared their growing bumps and morning sickness, but now reality has hit as they take responsibility for the new miniature beings in their lives.
The first series of the British drama showed blogger Kim (Parkinson) writing about the gripes of pregnancy and motherhood as she spends most of her time in a dark room typing away on her laptop, bemoaning her lost libido. Despite having a baby with girlfriend Suzie, she's now run off with the baby's biological father, Neil and – as the plot unravels – it all gets a tad dysfunctional as she's not too keen on having another child.
Both Jasmin (Taj Atwal) and Rosie (Hannah Midgley) are pregnant again, the former with twins, but Rosie is enduring emotional turmoil as her mother has passed away. Jasmin's pregnancy isn't all smooth sailing either, as she worries that something might be wrong with one of her babies.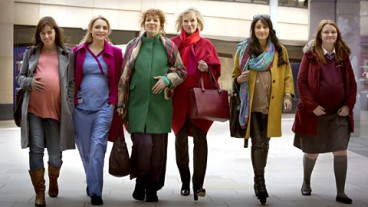 The second series also includes a visit from Vicky and her little one (Christine Bottomley) to Diane (Halfpenny) who is enduring a childcare nightmare, as Roanna (Norris) is stuck in a rather melancholy looking cottage that looks less cosy than a central London bus stop. This bleak set of storylines and revelations are just a warm up for when an abandoned baby is discovered in a hospital bathroom.
Discussing her delight over a second series of In the Club, Mellor, said: "I'm absolutely delighted for Rollem Productions to be commissioned to produce a second series of In the Club for BBC One. On a personal note, the whole experience from script to screen was such a positive one for me.
"It's going to be a bit of a juggling process as I'd love to bring all the characters back but I also want to introduce some new stories. One thing's for sure, I can't wait to start the whole process again," she added.
BBC One controller Charlotte Moore also commented: "BBC One viewers really took the characters to their hearts and it was exciting to see the show build across the six episodes. Kay Mellor's story about a group of pregnant women celebrated life in all its joy and tragedy and I'm looking forward to the delivery of series two."
Watch the story so far on BBC iPlayer.