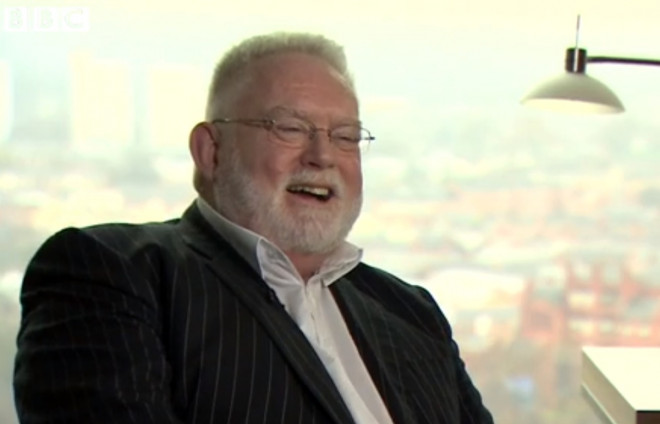 Co-op's former chairman Paul Flowers has spoken out for the first time since he was arrested, after becoming embroiled in a sex orgy and illegal drugs scandal, to say he has "sinned and is getting help".
Speaking on BBC's Newsnight, Flowers, 63, said that the last few months have been "hellish" and that he has since sought "professional support for the issues that I was facing" and underwent a 28-day addiction treatment programme, which he found both "cathartic and traumatic".
"I am in company with every other human being for having my frailties and some fragility exposed," said Flowers, who was also a Methodist minister and Labour Party councillor.
"Most people get through life without that ever coming into the public domain. But, of course I have sinned in that old-fashioned term, which I would rarely use, I have to say.
"Up to [November] there hadn't been much commentary about things we were doing at the bank, but it got worse after that. And for me personally there have been several moments where it has been hellish.
"You certainly find out who your friends are because a significant number of people in politics and in the Co-op, and some in the Church, have been noticeable by their silence or their absence."
Flowers also defended his initial appointment, despite telling the Treasury Select Committee last year that Co-op's assets stood at £3bn (€3.6bn, $5bn) when, in fact, they were around £47bn.
"Others made a judgement that I was the right and appropriate person to be the chair at that particular time. And it went through a very rigorous process of selection."
What Happened?

The Co-op Bank is one of UK's smallest lenders with 6.5 million customers and a 1.5% share of the current account market.

On 22 November, police arrested Flowers, as part of an investigation into the supply of illegal drugs after The Mail on Sunday released a video emerged of him allegedly handing over money to buy hard drugs.

The video of Flowers, who was in charge at the time of the Co-op's near collapse, was filmed counting out £300 in cash and allegedly talked about drug deals with a friend, Stuart Davies, over a series of text messages.

One text said: "Have 2 bags of Charlie here and have ordered another 5... enough? Px".

On the same day, Chancellor George Osborne launched an independent inquiry into embattled Co-operative Bank as it is engulfed in controversy.

Meanwhile, the Co-op launched a "root and branch" investigation into how the embattled lender is run after a video emerged of its former chairman, who is also a Methodist minister, handing over money to buy hard drugs.

The group pledged to review its "democratic structure" and stressed the need to "modernise" itself following a £1.5bn black hole in its balance sheet.

The leader of the board that appointed Flowers, Len Wardle, has also resigned.

Flowers was paid £132,000 a year as chairman of the Co-op Bank from 2010 until May 2013, when he stepped down.