Coleen Rooney shares first photo with Wayne after drink-driving party girl drama
The couple posted the Christmas photo on social media with their wedding rings in full display.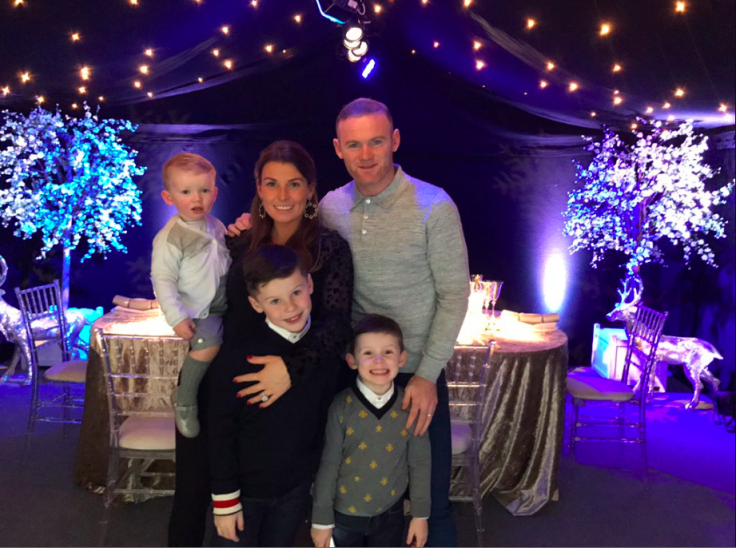 Coleen Rooney shared a photo of herself with husband Wayne and their three boys for the first time in months. The pregnant mother-of-three shared a loved-up Christmas photo of the family to both Instagram and Twitter with the couple's wedding rings in clear display.
The image might shake off marriage trouble rumours that have loomed over the couple since the Everton FC striker was caught over the limit behind the wheel with party girl Laura Simpson. He was subsequently banned from driving for two years after he pleaded guilty to a charge of drink-driving. He was also given 100 hours of unpaid work as part of a 12-month community order.
The happy-looking family features the 31-year-old Coleen and her youngest son Kit, one, resting on her right hip. She has her left arm around eight-year-old Kai.
32-year-old Wayne has his arm around Coleen and a doting hand on the shoulder of four-year-old son Klay.
The family of five smiled for the camera in front of a dinner table decked out in silver for Christmas Day. The Liverpool Echo noted that the couple shared the photo on social media with Christmas wishes.
"Wishing you all a very happy Christmas. Thinking of everyone who isn't enjoying Christmas for certain reasons. Ours has been non-stop with the kids but lovely!!" Coleen wrote on Twitter.
On Instagram, Wayne wrote: "Merry Christmas everyone. Have a great day".
Coleen recently commented on her relationship to Wayne, saying she "didn't know" what would happen to their nine-year marriage. She said she was determined to make their relationship work, but added: "I know I would be fine on my own, with just me and my children."
The soon-to-be family of six is set to move in to a private Cheshire mansion in the new year.