A British man and his young family are among those still missing in the Philippines in the aftermath of Typhoon Haiyan.
Colin Bembridge, 61, along with his 35-year-old Filipina partner Maybelle and their three-year-old daughter Victoria are feared to have been killed by the typhoon that decimated several villages and cities across the Philippines last Friday.
Bembridge, a pharmacist from Grimsby, had been visiting his partner's relatives in the coastal village of Baybay, near Tacloban, when the storm struck.
The mother of Bembridge's partner, 79-year-old Lydia, told Channel 4 News that she has not seen or heard of the family since Typhoon Haiyan made landfall and showed television cameras the wreckage of the hired beach hut where they had been staying.
While searching through the debris, Lydia found a games console belonging to her granddaughter Victoria and a dress belonging to her daughter Maybelle.
"I just want to know whether they are dead or whether they were blown by the winds," she said. "Now that I am here I cannot see them. I am at a loss of where they are. My heart, it's hurting."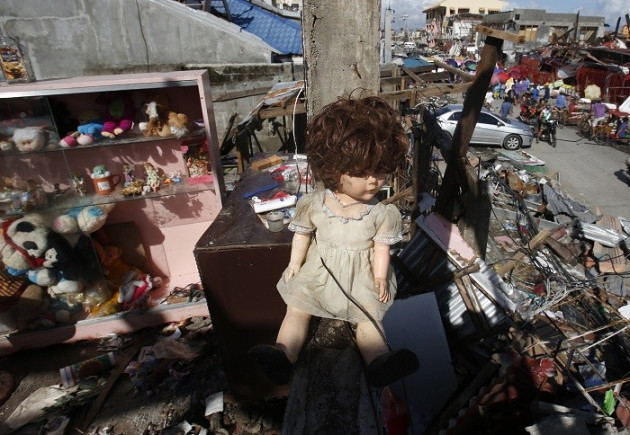 Bembridge's daughter from a previous relationship, Joanne, appealed for information about her father's whereabouts on social media.
"My dad, Maybelle and Victoria are still missing - please speak to everyone you know to help find them," she said in a posted message on Facebook.
"They were last seen in a house on BayBay, San Jose, Tacloban, Phillipines - we think near to the Mayor's building. Please pass on this info to everyone you know and send information to this Facebook page or mine if you know or hear anything."
The UK Foreign Office said: "We are aware of reports that a British man was killed by Typhoon Haiyan. We are urgently looking into these reports."
Bembridge is among a small number of missing Britons that the Foreign Office is "extremely concerned about".
Earlier this week, Dan Efergan, who works for Wallace and Gromit creators Aardman Animations, was found safe and well with his wife Claire and their baby son Huxley on Borcay Island. The family had previously been feared dead.