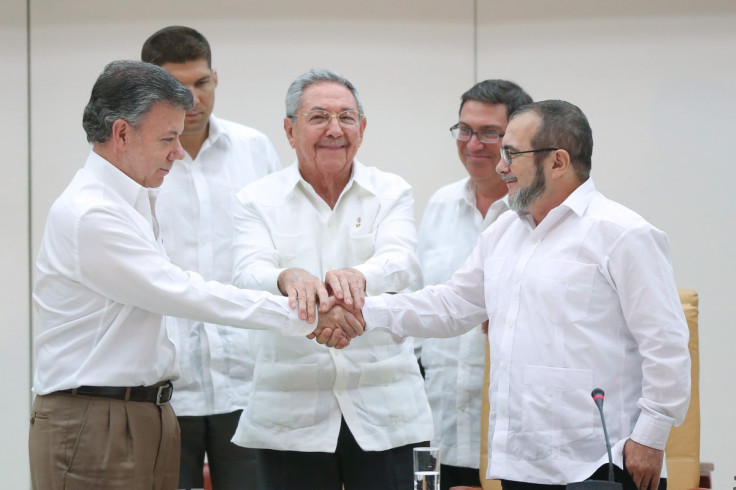 After half a century of war, Colombia is finally on the path to peace as the country's president, Juan Manuel Santos, and leftist FARC rebel leader, Rodrigo Londono – commonly known by his nom de guerre, Timochenko – pledged to end one of the world's longest-running conflicts within the next six months. The pact was concluded by a handshake between the two leaders on 23 September, and if successful, it is likely to become the defining image of an historic moment for Colombians.
"The chief of the FARC secretariat and I have agreed that in no more than six months this negotiation should come to an end and we should sign a final agreement," Santos said in the Cuban capital, Havana, which has hosted the protracted peace talks since they began three years ago.
The two leaders agreed that the guerrillas would relinquish their weapons within 60 days of the deal being signed, set to take place on 23 March 2016. Under the terms of the deal, special tribunals comprising some international judges will be set up to try crimes committed by both FARC members and state agents and non-combatants. People who confess immediately to crimes will face between five and eight years of restricted freedom, but not jail (conditions are yet to be defined). Those who come forward at trial will received reduced jail terms and those who contest accusations and are ultimately found guilty could face up to 20 years' imprisonment.
The breakthrough to end the conflict, which has claimed 220,000 lives and displaced millions, was hailed by both leaders. Timochenko said: "We don't want anything to stop this overflowing desire for peace and hope it will be forged in a hug of reconciliation."
Shortly before the handshake, Santos said: "I want to recognize and value the step that the FARC has taken today. We are on different sides but today we advance in the same direction, in the most noble direction a society can take, which is toward peace."
The efforts have also been praised by US secretary of state, John Kerry. "Peace is now ever closer," he said in a statement. "I have called President Santos to congratulate him and his negotiating team for their courage and commitment to the peace talks under extraordinarily difficult conditions."
Senior FARC leaders are wanted in the US on drug trafficking charges, but officials have signalled that extradition requests will not hamper a peace deal.