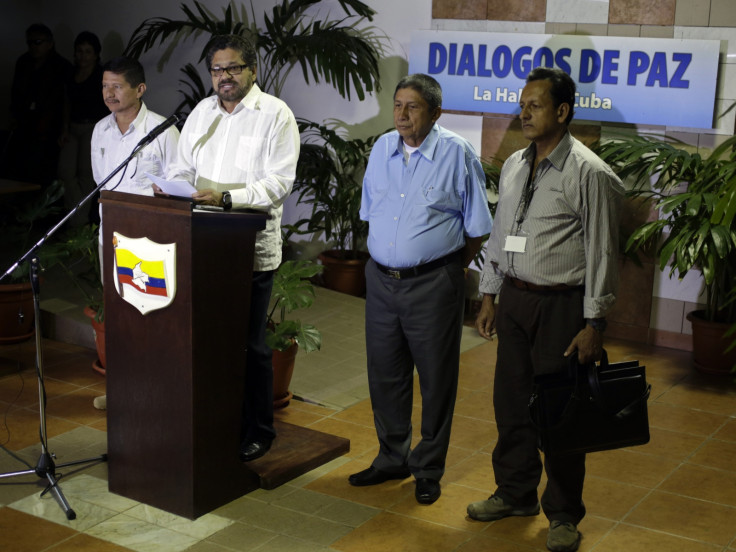 Colombian leftist guerrilla group Farc claimed that one of their veteran fighters, who was also an envoy to peace talks with the government in Havana, was among those killed in a military raid last week. The Farc suspended a unilateral ceasefire following the attack on 23 May.
The rebel group issued a statement claiming its fighter Jairo Martinez was killed in the attack on a jungle camp in south western region of Cauca, the Associated Press reported. Martinez, whose real name was Pedro Nel Daza, was among the negotiators who had travelled to Cuba last year to try to end the country's 50-year war.
According to the Farc, Martinez was visiting troops to discuss the ongoing peace talks when the Colombian military launched a surprise air and ground assault.
The AP reported that the 63-year-old was formerly part of the Farc delegation to the peace talks and played a key role in previous attempts at peace in 2002.
The rebel group said they suspended the ceasefire after "five months of land and air offensives against our structures all over the country" but were committed to continue the peace talks in Havana.
"Against our will we will proceed with the [peace] talks in the middle of a confrontation," the group said in a statement.
"The government has to explain why a person involved in the peace process has ended up dead in a military action," Alternative Democratic Pole party Senator Ivan Cepeda said to the AP. Colombian President Juan Manuel Santos has not commented on the rebel's death.
The continued intensification of military action against the rebel group, there have been three raids in the last week, has some losing hope in the peace talks between the government and the Farc.
As reported by IBTimes UK, the government and the Farc have been in on-off negotiations since 2012. However, peace talks have taken several hits in the last few months. Rebels captured a high-ranking army general in November, who was later released. It also attacked an army unit in April, killing 11 members of the unit.