Pope Francis has celebrated a Sunday mass in front of thousands of Cubans in Havana's Revolution Square, today (20 September). The country has been preparing for the pontifex's visit for weeks. The pope is planning on visiting the US next.
Francis held a service including blessings, a gospel choir and thousands of Cubans holding up signs with the church leader's photos. He is also set on meeting Raul Castro, the leader of the Communist-ruled country, despite Castro's outspoken atheism.
Since Raul's brother Fidel Castro took power in 1959, Cuba has been an officially atheist state, but the country's population is largely Roman Catholic. However, Raul Castro hinted that the pope made a deep impression on him, which has caused him to reconsider his faith.
"If the pope keeps talking like this, I might go to church and start praying again," he said, causing reporters to laugh. He added: "I am not kidding."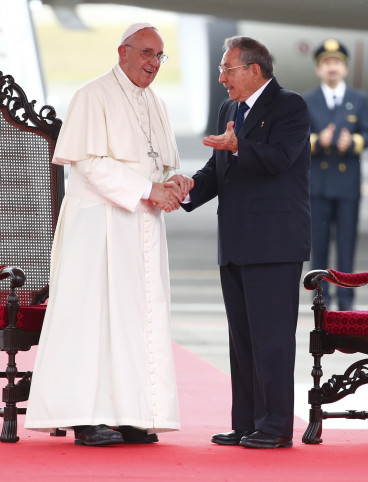 There were three masses planned for the Pope, and Castro pledged to visit all three of them, in a surprise move. The pope is also likely to meet his brother Fidel.
Cuban Cardinal Jaime Ortega y Alamino told CNN that there was no proof that Castro would actually reconsider his religious stances, however.
"It could mean the desire by Castro to approach the religion of his early youth, his Jesuit studies. But the word 'return' means a distancing. It means a religious faith that existed in its moment but hasn't been observed. It's very personal."
Political appeals
During his visit to Cuba, which will be followed by a trip to the US, Francis, the first South American Pope whose birth name was Jorge Mario Bergoglio, has urged both countries to continue their work towards reconciliation.
Shortly after arriving in Havana, Pope Francis stated: "We have witnessed an event which filled us with hope: the process of normalising relations between two peoples following years of estrangement."
He used his popularity in Cuba to advocate some political causes. He called on the Cuban government to give greater freedom to the Catholic Church, and he used his platform on Revolution Square in Havana to beg for peace between the government of South American Colombia and the guerilla group Farc.
Calling upon both sides of the 50-year-old conflict and he said: "May the blood shed by thousands of innocent people during long decades of armed conflict" sustain efforts to find a definitive peace. "Please, we do not have the right to allow ourselves yet another failure on this path of peace and reconciliation."