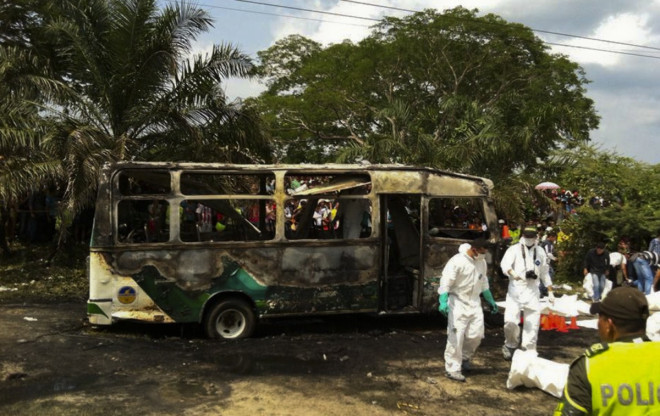 At least 31 children have been killed when a bus ferrying children from a church in northern Colombia caught fire.
As many as 50 children were on the bus which picked them up from an event in Fundacion near the Caribbean coast in Magdalena province, about 750 kilometers (465 miles) north of Bogota.
Charred bodies of children were recovered from the bus, while 18 people managed to escape from the burning bus, and were found alive. The injured were being treated at nearby hospitals.
Harry Aaron, a civil defence official was also among the victims, according to CNN.
"Everyone started to scream and run," a child who escaped through a window told the local Caracol television.
Local officials said that the bus had a capacity for only 38 passengers, but over 50 people were travelling on the overcrowded bus.
Colombian authorities are still investigating the cause of the fire, but one witness reportedly told Caracol that the driver got out of the bus for a drink, and children appeared to be in charge of filling fuel in the bus.
However, another report suggested that fire started when driver attempted to start the bus, already in run-down condition, by pouring gasoline into the engine from the cabin floor.
"There was a canister of gasoline inside the vehicle. The fire spread very fast," Major Eduardo Velez, coordinator of emergency response corps, told Reuters.
The driver did not sustain any injuries, and had managed to escape unscathed.
A private transport company owned the bus, which was in use as a school bus for children.
President Juan Manuel Santos offered his condolences over the accident involving children on his Twitter account, and travelled to Fundacion to see the victims in hospitals.
"The country is in mourning," he said.