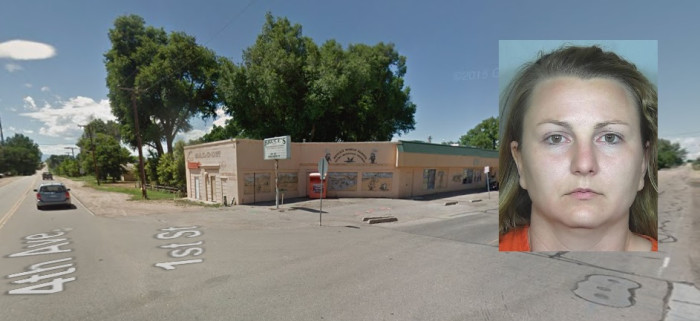 A Colorado woman took two children she was supposed to be babysitting to help her rob a bank before taking them to the park, according to police in the town of Severance. Rachel Einspahr, 28, drove to a bank in the town north of Denver and passed a note to a teller saying the children would be shot by a mystery man unless she was given $500. The teller became suspicious when she couldn't see any man.
According to court documents, in the note Einspahr wrote: ""Do not sound alarm, the man in the very back wants $100s and $50s ... no dye packs or trackers ... he has gun on my kids." Fearing for the safety of the children the teller at the Colorado East Bank & Trust handed over the money and she drove to the park to switch registration plates then home, where police spotted a white Nissan SUV matching the description of the one used in the raid.
"The Weld County Sheriff's Office is happy to report that the children were not harmed during the commission of this crime," said Weld County Sheriff Steve Reams in a statement published by The Coloradoan. Einspahr has been detained and faces child abuse and robbery charges along with another person who has not been named. The children have not been identified. One later told detectives there had not been a man in the car. According to a neighbour of Einspahr she may have lived in the same house as the children along with a number of other people.
According to the Greeley Tribune, Einspahr needed the money to pay off $15,000 she owed as part of a plea bargain for previous felonies. She had written company cheques to herself when working as an office manager. She has previously been charged with 30 counts of theft and forgery.