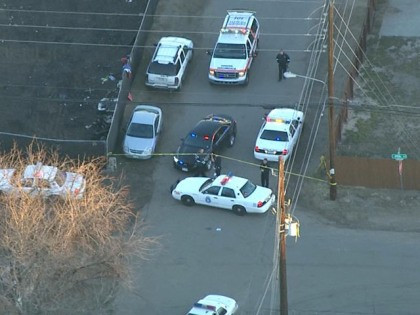 Three people including at least two children have been killed by a gunman in Colorado's capital of Denver.
Another child was reportedly wounded in the shooting and has been taken to a hospital, police said.
Police were called to reports of a shooting in an industrial district.
"On arrival [police] described four bodies, three deceased and one in visible distress. [The fourth] was brought to the hospital," Denver police chief Richard White told ABC 7 news channel.
Local media reported that rescuers wheeled what appeared to be a young person on a stretcher out of the building where the other bodies were found.
Police are hunting a suspect but no further details have been released.
White said names and ages of the victims had not been revealed pending notification to the respective families.
Pearl Street is just nine miles away from the district of Aurora where, on July 20 2012, gunman James Holmes, 24, opened fire on spectators at a midnight screening of Batman, the Dark Knight Rises,
Armed with an AR-15 assault rifle, a 12-gauge shotgun and a Glock 40 handgun, Holmes left 12 people dead and 58 others injured. He was charged with 24 counts of murder and 116 counts of attempted murder.
The Aurora shooting and the massacre of 20 children at Sandy Hook Elementary School in Newtown, Connecticut, in December reopened the debate on gun laws in the US.
A US Senate judiciary committee has started hearings to evaluate whether stricter regulations are needed to curb violence.
"Too many children are dying. Too many children," Former US congresswoman Gabrielle Giffords, who was shot in the head by a gunman in 2011, told the committee. "We must do something."