A stellar cast of comedians, TV and movie stars joined forces for this year's Red Nose Day for an evening of non-stop entertainment in aid of Comic Relief.
By midnight, the TV laugh-a-thon had raised £69m in pledges and received a huge boost when Microsoft billionaire Bill Gates and his wife Melinda Gates said they would double any donations given to help the campaign to eradicate malaria.
James Corden, Take That, the cast of Love Actually, Ed Sheeran, and others took part in a series of sketches designed to raise a few laughs and some much-needed funds for charities in the UK and abroad.
At the helm was one of the original founders, Lenny Henry, who opened the proceedings with Graham Norton, Warwick Davis, Romesh Ranganathan, Dawn French and Jennifer Saunders in a musical homage to the Oscar-winning film La La Land, dubbed Ha Ha Land.
Take That made a final bid to crack America with a little help from British export James Corden. Taking up the Carpool Karaoke challenge the trio of Gary Barlow, Mark Owen and Jason Orange indulged the late-night chatshow host with renditions of Take That classics Never Forget and Back For Good.
Taking to the streets of LA, they tried their best to win over the American people with their catchy numbers and some dubious dances moves.
Taking inspiration from Corden, Dawn French and Jennifer Saunders recreated their own spoof version of the popular Late Late Show segment with 'Dawny Corden' taking her place in the driver's seat.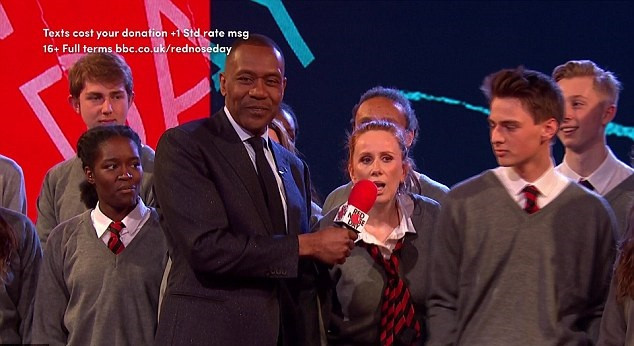 Hitching a lift was Saunders, transformed into Bonnie Tyler with a blonde perm who launched into a rendition of Total Eclipse of the Heart.
Ed Sheeran, who had personally visited some of the children in need of lifesaving funds, was the unwitting subject of the Comic Relief tradition of an onscreen kiss, happily performed by Miranda Hart.
"There's a silly rule," she explained "but I always stick by them, and what it is – is that it demands that the musical acts have to kiss with passion and considerable meaning the tallest host."
The singer also joined forces with spoof rap act Corrupt FM for a questionable musical collaboration, but of course, it was all in aid of charity.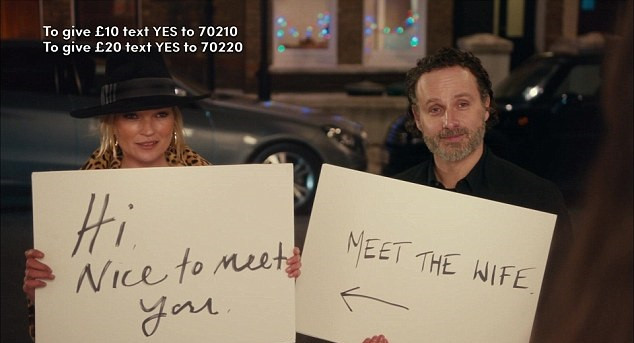 Everyone was tuned in for Richard Curtis's eagerly anticipated sequel to Love Actually. The original cast were reunited for the one-off special as we discovered what happened to the lovestruck characters. Returning as the British PM Hugh Grant had fans in raptures as Twitter went into meltdown over his poignant speech.
But it was Billy Connolly's impassioned plea for support that left viewers moved to tears . The comic actor who is battling Parkinson's Disease and cancer urged viewers to donate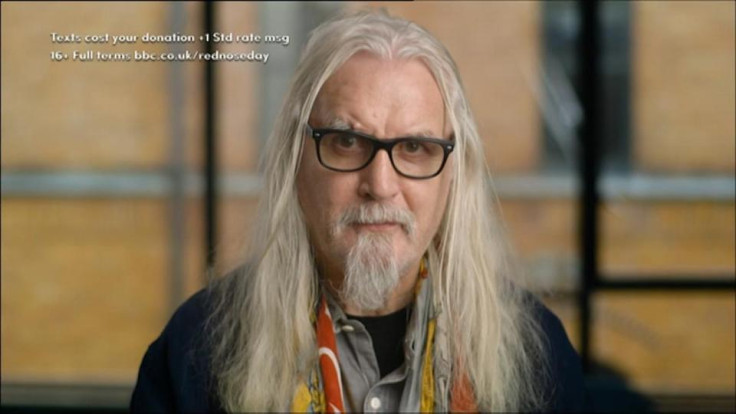 "Well I'm back at Comic Relief and what a journey it's been," he said. "It started 30 years ago, a youngish man with a lush, coloured beard and a very peculiar shirt. I seemed to remember I cracked a joke or two, then I went to Mozambique. It was quite fun there too, but I saw some terrible things," he explained.
"I was glad to do my bit just to pass on to the British public what it was actually like to visit places like that. Then of course I made a bloody fool of myself running around Piccadilly Circus naked."
Touching on his own trials he turned to the present day saying: "But I don't know if I would ever have guessed this, the latest version of me on Red Nose Day. I've not been completely well, cancer and Parkinson's, so it's time for me to bring it home."
"It's an amazing thing Red Nose night, utter generosity changing the lives of millions of strangers and I thank you for it."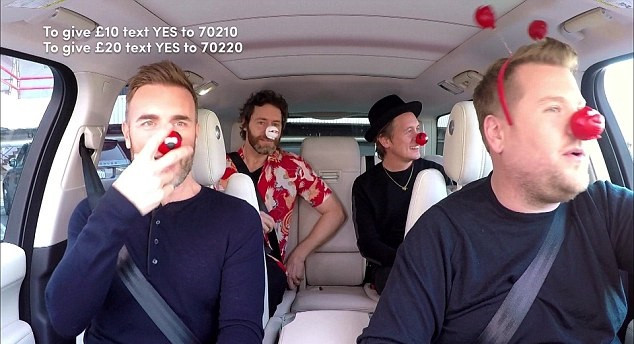 He added: "God bless, I'll be back later as if you don't give a million pounds I'm gonna take my clothes off again and you wouldn't like that. But I'm very proud of the stuff we've done together, thank you."
To donate to Comic Relief, visit bbc.co.uk/rednoseday, or phone 03457 910910. To donate £10 via text, text 'YES' to 70210, or to donate £20 text 'YES' to 70220.