A budget smartphone called the X running a forked version of Android made to look like Windows Phone. What is Nokia doing? Alistair Charlton ends up with more questions than answers.
---
Nokia is believed to be developing an Android smartphone codenamed Project Normandy, with a design that mimics both the hardware and software of its Lumia range of Windows Phone devices.
Speculation of such a phone dates back to September last year when sources speaking to the New York Times claimed Nokia had Android "up and running" on Lumia devices long before Microsoft had made an offer to buy its phone-making business.
At this point, experimenting with Android made perfect sense for Nokia. It had gone all-in with Windows Phone 8 at its launch in late 2012 and had seen some progress, soon to take third place away from BlackBerry - but Nokia must have known its former glory days would not be repeated without joining the Android bandwagon.
Forking Android to look like Windows Phone
In a room somewhere in Nokia's Espoo, Finland headquarters there was a Lumia handset running a heavily forked (visually modified) version of Android, and while it didn't pack the 41-megapixel camera of Nokia's Lumia 1020 flagship, nor a quad-core processor or a particularly large screen, it had the potential to bring Nokia back from the shadows.
But then Microsoft arrived at those same headquarters carrying a rather large cheque. The software giant agreed to buy Nokia's phone-making business for £4.6 billion, leaving behind a much smaller company focused on its three remaining divisions: HERE mapping, Advanced Technologies, and Nokia Solutions & Networks.
Such a move would seemingly put the stillborn Android Lumia project out to pasture, along with Nokia's other abandoned mobile project, Meego (since resurrected as Jolla).
Reports of Normandy death are greatly exaggerated
But any thoughts of Normandy being killed off were dismissed when notorious and often accurate smartphone leaker Evan Blass posted apparent press renderings of the device to his @EvLeaks Twitter account in late November.
The Verge's Tom Warren also claimed work on Normandy and its forked version of Android was continuing "full steam ahead" as an alternative to Nokia's budget range of Asha feature phones. However, Warren suggested it was unlikely Nokia would push ahead with Normandy, unless it could launch the phone before Microsoft took over.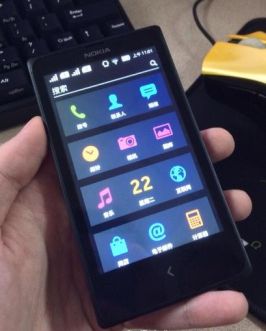 On 31 December, Blass tweeted: "The reports of Normandy's death have been greatly exaggerated," and less than two weeks later an image claiming to be of a Normandy "engineering prototype" was retweeted by Blass.
This was followed by an image originating from Weibo, China's equivalent to Twitter, showing a claimed Normandy handset in use and featuring a forked Android operating system. The Weibo post has since been deleted, but the image (right) was tweeted soon after.
Nothing short of bizarre - Android resembling Windows Phone
Two months later and Blass struck again, this time publishing what he claimed to be screenshots of the Normandy's user interface - a version of Android heavily modified to resemble Windows Phone.
Nothing short of bizarre, the screenshots (below) presented a version of Android smothered with brightly coloured icons reminiscent of Windows Phone's Live Tiles - but running what we assume to be regular Android applications.
Nokia's HERE maps and Mix Radio apps were shown in the screenshots, along with app icons identical to those used by Windows Phone. Quite why Nokia would make an Android interface using icons (like Gallery) taken from Microsoft's Windows Phone operating system is beyond us.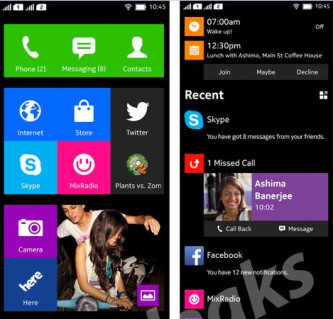 Nine days later, Nokia sent out invitations to a 24 February press conference at Mobile World Congress in Barcelona, where it is assumed whatever Normandy is will be made official.
On 14 January, Blass retweeted a @VizLeaks tweet containing an image thought to be the rear case of a matte red Normandy handset, along with the message "and the waiting game begins... #NokiaLumiDroid #Normandies."
Meanwhile, Warren believes the Normandy will have just 512MB of RAM and 4GB of internal storage, placing it behind even the cheapest Lumia. Finally, on 24 January Blass tweeted: "Project Normandy = Nokia X". Given the mystery phone is thought to be a budget handset, Nokia's use of X for a name would be at odds with Motorola, which uses X for its flagship.
This all leads to a number of questions:
Will Android for Nokia be killed off by Microsoft?
Will a budget handset really be called Nokia X?
Will any Normandy devices be called Nokia, given Microsoft started striking the name from images of Lumia phones months ago?
Would Microsoft really consider developing a phone running Android?
Did Microsoft know Nokia would be dragging some half-developed baggage into the buyout deal?
When Google bought Motorola Mobility back in 2012, there was a 12- to 18-month backlog of semi-developed Motorola products to finish before Google could take control and build its own phone, which became the Motorola X.
Perhaps Microsoft will find itself in the same position with Nokia, tasked with clearing the Finnish firm's to-do list before starting anew.
We hope to find out more at Mobile World Congress next month, but until then, Nokia's Project Normandy remains one of the most puzzling consumer technology stories yet.