Less than a week after a French deputy argued the French government should not intervene in the ongoing crisis in its former colony Congo-Brazzaville, Congolese activists are launching a campaign to put pressure on the French government.
Formerly named the French Congo after 1882, today's Congo-Brazzaville (or Republic of the Congo) was rocked by a significant outbreak of violence on 4 April 2016 on the day the Constitutional Court published final election results showing President Denis Sassou-Nguesso had won a hotly contested March presidential poll.
While the Congolese opposition rejected the results, it has also claimed hundreds of civilians may have been killed and more than 2,000 displaced in air strikes carried out by Sassou Nguesso's government on residential areas in Pool, the south-eastern region of the oil and timber-rich nation.
In a statement published on 19 April, the French Ministry of Foreign affairs said it is "following with concern the situation in Congo, particularly in the Pool region, where there are reports of military activities that could have affected civilian populations" but has up to now been silent.
France should 'just watch and observe'
On 30 May, #Sassoufit – a collective representing Congolese civilians behind the protest movement – sent an open letter to Michel Terrot, a French MP and the president of the France-Congo parliamentary Friendship Group (groupe d'amitié France-Congo) after the MP outlined his position in an interview with Les Afriques, a Pan-African financial newspaper.
Asked about his position with regards to the Congo-Brazzaville, Terrot rejected any interference, saying the international community, particularly France, should "just watch and observe" how the situation evolves.
"I think the whole idea of interference is not constructive," he is quoted as saying. "No one's rights should be neglected, but again, I repeat, we should not fall into the interference (...) any notion of interference is shocking. It is not for France to issue certificates of good or bad behaviour." When asked whether Sassou-NGuesso should leave, the MP said: "It's up to the Congolese people to decide."
Sassoufit puts pressure on French government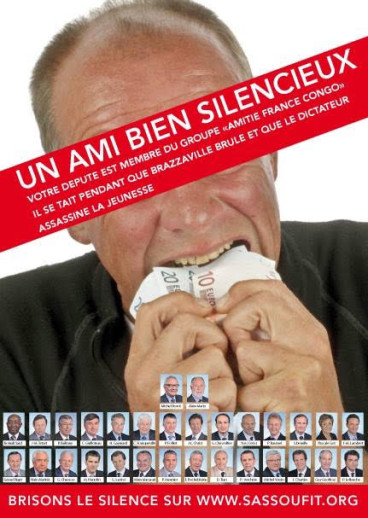 Andréa Ngombet, a young Congolese citizen living in Paris and founder of #Sassoufit spoke exclusively to IBTimes UK about France's reticence to intervene in the conflict.
"When he was asked about his position with regards to the Congo-Brazzaville, Terrot said stability should be favoured, that the continent should avoid 'going on an adventure' without defining what adventure means," Ngombet said over the phone.
"In our eyes, this answer highlights his view that democracy we know in the West 'can not apply the strict consensus in Africa or elsewhere, for we must take into account cultural aspects'. I was flabbergasted: whether you are white or black, democracy cannot always be the same for all?" He added: "We are still on a war footing. During the recent crisis that left many dead, the government remained silent – no meeting, little declarations – and now that we are putting pressure on the French government to obtain a clear position, these political dinosaurs wake up to say these ridiculous statements."
'Economic and political interests' behind France's silence?
In Ngombet's view, France is struggling to take position because of a number of economic interests in the oil-rich region, and a "very tense duel" between Prime Minister Manuel Valls and President Francois Hollande.
"Valls who wants the status quo in Congo, while Hollande wants to get things moving. But because Hollande is not in a strong position, there is a blockage," Ngombet explained.
"We have been trying to identify where the principal blocking points, and one of them is the France-Congo parliamentary Friendship Group."
According to Ngombet, blockages could come from a number of controversial personalities involved in the parliamentary Friendship group.
"There are a certain number of deputies within the group, who we believe will give the position of the Congolese government, who they are very close to, when they are heard by the French government. The position of such a number of deputies will weigh on the government's stance. That's what we are trying to highlight," the activist said.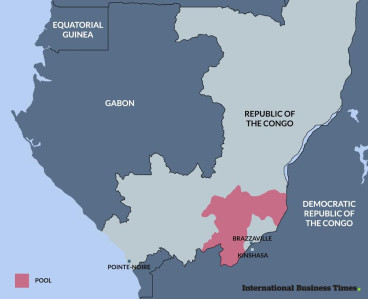 One of them, he alleged, may be Patrick Balkany, a centre-right MP and mayor of Levallois-Perret near Paris was in October 2014 convicted of "tax fraud laundering", "corruption" and "corruption of money" for suspicious activities on the African continent between 2007 and 2012, including in the Congolese capital Brazzaville.
Claiming the collective "cannot let it go", Ngombet added its activists are planning a pressure campaign, and intend to put up posters (see picture above) on the parliamentary friendship group's office in the French capital.
France is Congo's principal external partner, contributing significant amounts of economic assistance but the main element in the two countries relation is Congo's highly successful oil sector.
According to the World Energy Council, Congo-Brazzaville is now the fourth-largest oil producer in sub-Saharan Africa, with 15.2m tonnes produced each year, and its proven oil reserves currently stand at 1.6bn barrels.