Bosco Ntaganda, a former Congolese warlord on trial at the International Criminal Court (ICC) for alleged war crimes and crimes against humanity, has begun a hunger strike in protest against his prison conditions.
Ntaganda, referred to as 'Terminator',turned himself in 2013 at the US embassy in the Rwandan capital, Kigali after evading capture for seven years after the ICC first issued warrants for his arrest. He now faces 18 charges of war crimes and crimes against humanity for atrocities allegedly committed by his troops in the Democratic Republic of Congo (DRC) in 2002-2003.
The 43-year-old former warlord "has decided to stop eating" since 7 September his lawyer Stephane Bourgon told the court on Tuesday as he read Ntaganda's statement. Bourgon said that his client is "feeling weak" and will also refuse to attend court hearings.
"When I decided to come here voluntarily over three years ago, I thought I could defend myself, but I know now that this is not the case, there is no way out and I have no hope," the lawyer read.
Lawyer: 'My client would prefer to die than to be where he is'
According to the defence attorney, Ntaganda is protesting against a decision by ICC judges to uphold restrictions imposed on his phone calls and visitation rights. These measures were taken in 2014 amid concerns that he had attempted to interfere with witnesses via an intermediary he had contacted from his cell by phone.
While Ntaganda said has "no hope of seeing my wife and kids in normal conditions", judges said that Ntaganda's conditions of detention did not prevent family visits.
"Ntaganda has lost all faith in the court because of the way he is treated. The situation now is that my client would prefer to die than to be where he is," Bourgon said. This was confirmed by the accused, who claimed: "I am a revolutionary" and "I am ready to die" during a video conference.
The trial began a year ago. Seeking to prove his innocence before the ICC judge, Ntaganda denied in September 2015 all charges including killing at least 800 civilians during separate attacks on a number of villages between 2002 and 2003, the recruitment of child soldiers, as well as raping girl soldiers and keeping them as sex slaves.
On 17 March 2006, Congolese warlord Thomas Lubanga Dyilo was the first person arrested under a warrant issued by the ICC. His trial began in 2009 and he was sentenced to 14 years in prison in 2012 for war crimes including recruiting child soldiers and forcing them to fight in a war.
Who is the General Bosco 'Terminator' Ntaganda?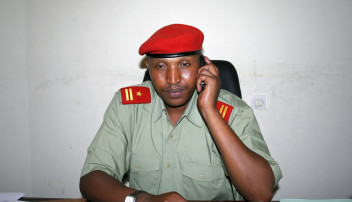 Born in Rwanda in 1973.
Fled to DRC as a teenager after attacks on fellow ethnic Tutsis.
Alternatively fought as a rebel and a soldier, in both Rwanda and DRC.
Deputy chief of the general staff of the military wing of the Union of Congolese Patriots (UPC) rebel group, called the Patriotic Forces for the Liberation of Congo (FPLC) in Ituri region, a mineral-rich north-eastern Congolese province on the border with Uganda.
Under the command of Thomas Lubanga in the FPLC. Lubanga became the only person convicted by the ICC, in 2014.
Assumed the rank of commander of the FPLC.
Played a crucial role in ethnic attacks during the bloody conflict in Ituri, which campaigners say may have left 60,000 civilians dead since 1999.
Indicted by the ICC in 2006, for allegedly recruiting child soldiers in Ituri, but integrated into the Congolese national army and made a general three years later.
Defected from the army in 2012 following a mutiny, sparking the M23 rebel group - mostly from the Tutsi ethnic group - which fought against government troops until 2003, when both sides signed a peace deal.