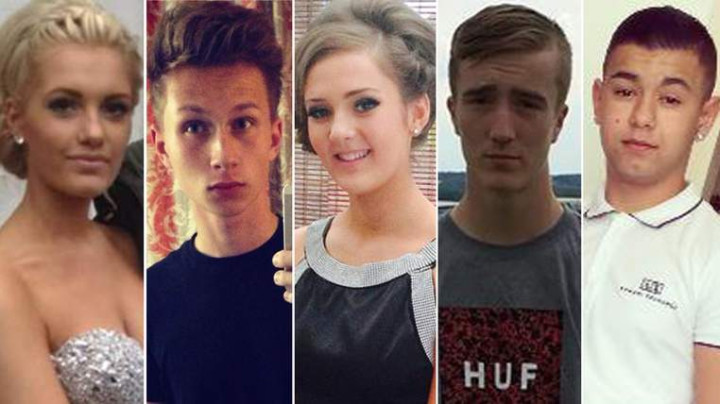 A school is in mourning after five of its past and present pupils were killed in a car crash in Conisbrough near Doncaster.
Danum Academy pupils, Blake Cairns, 16, Arpad Kore, 18, Jordanna Goodwin, 16 and Megan Storey, 16, and former pupil Bartosz Bortniczak, 18, died after the blue Toyota Corolla they were travelling in went out of control as it headed downhill on a bend on the A360, and collided with a grey Seat Leon which was coming up in the opposite direction.
The Corolla was reportedly following a black Vauxhall Corsa car with two friends inside after meeting at McDonalds earlier on Saturday evening, (15 November).
The 21-year-old driver of the Corsa was arrested on suspicion of causing death by dangerous driving and has since been bailed pending inquiries. He is said to be "shell-shocked" and "traumatised" over the incident.
A 45-year-old Mexborough man, who was driving the Seat, suffered a broken leg.
The crash is the second multiple fatality to have occurred in recent years along the accident black spot road, known as The Drag.
A special assembly at the school was due to be held in memory of the victims which is in mourning over their tragic deaths. Counsellors will be on hand to support the students.
Headteacher Rebecca Staples said: "Whether it's staff or students, the pain is going to be colossal and nobody's going to understand why this happened to these wonderful young people.
"But we have to find some words to help people through this and I think that's why it's so important we have counsellors here to support people as they begin to find ways to grieve."
Police have launched an appeal for witnesses to come forward to help officers with their investigation.
The accident scene is just 100m from the site of a collision in which three teenagers were killed in 2011 after their car hit a tree.
Danum Academy Tributes to the Victims

Blake Cairns was great fun and had a huge network of friends. He was a very sporty boy and represented the school in football teams. He had a real presence; a lovely cheeky boy, who had great relationships with staff.

Jordanna Goodwin never missed a single day of school from primary to the end of year 11 and had received a special reward from the local authority. She was a joyful, bubbly girl who had a fantastic rapport with staff. She was our prom queen this year and looked so beautiful on the evening.

Arpad Kore was always willing to help and assist at school. He was a totally reliable member of our community, a true gentleman, who looked out for everybody. He had a tremendous sense of humour.

Megan Storey was a really bubbly young woman. She was totally reliable for all her friends and truly loyal. She was a very caring, mature young woman, who was a joy to be with. She too looked stunning at our prom.

Bartek Bortniczak had kept close ties with his school friends since leaving. He was a fun-loving young man, with a lovely character and a real sense of fun, a loveable lad. He was a member of our football teams and a down-to-earth soul.
Anyone with information about the crash to contact South Yorkshire Police on 101, quoting incident 1123 or 15 November 2014.
Alternatively call Crimestoppers anonymously on 0800 555 111.